On the Spot: Focused and Precise
Scansonic MI GmbH specializes in optical systems for robot-assisted laser machining. The modules from the high-tech company in Berlin feature ROBOFLEX special cables from HELUKABEL. These cables withstand mechanical stresses such as bending and torsion, making them ideal for use in industrial robots in moving applications.

Laser machining is commonplace in many sectors nowadays – and for good reasons: welding, brazing/soldering, cutting or hardening with the aid of focused laser beams is cleaner, quicker and more precise than with most other manufacturing technologies. Lasers are especially popular where quality and appearance play a major role – for instance, in the joining of visible components in the automotive industry.
In order to fulfil the diverse and rigorous tasks of modern production plants, every laser requires special optics. These complex systems guide, change and focus the beam to carry out application-specific tasks. "The same laser can be used for joining materials as well as for cutting them," explains Christian Schwerdt. He is the purchasing team leader at Scansonic MI GmbH, one of the leading manufacturers of laser processing optics. Founded in 2000, the Berlin-based company provides, among other things, solutions for welding, brazing/soldering, cutting and surface machining.
A modular system for special requirements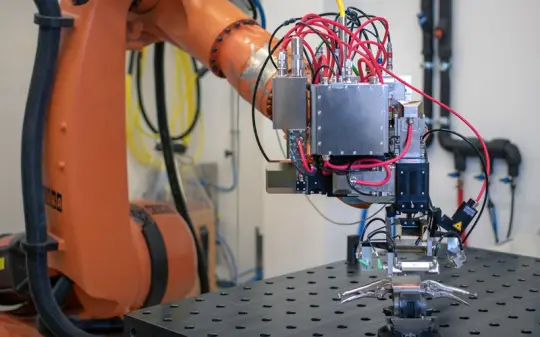 The numerous cables for laser processing optics are used for power and data transmission and for connection to robots and control cabinets.
Scansonic's success is based on a system consisting of different modules that are combined depending on the customer's specific requirements. "This enables us to realise unusual or highly specialised applications in an economical way," says Schwerdt. Such applications are becoming increasingly relevant in the rapidly growing e-mobility segment: "Regardless of whether it's electric motors, power electronics or batteries – laser welding is carried out on almost every component – and to an extremely high standard," the expert points out. "For example, seams must be gas-tight closed, join tiny components together or be free of any visible splashes or surface irregularities." Each application thus places a unique set of demands on the laser and its optics.
The systems are mounted on an industrial robot whose axes enable the desired motion sequences. Furthermore, Scansonic products are not tied to a specific robot manufacturer - they can be used universally. "In our in-house laser laboratory – one of the largest of its kind in the world – we have many different types of robots, which means we can extensively develop and optimise prototypes of new applications for our optics," describes Schwerdt. This combination of know-how and flexibility makes Scansonic a sought-after partner for many renowned enterprises, from medium-sized companies to large corporations.
Cables are important components of laser processing optics. They transmit power and data through the systems and connect them via the robot to the switching cabinet. A reliable performance is of paramount importance as any fault can potentially lead to a costly production outage. At the same time, the cables are subject to constantly changing bending, torsion and tensile loads as a result of the robot's movements. Cables that are designed specifically for this area of application are therefore needed in order to avoid unwanted abrasion and cable damage when used in the long term.
Designed for robots
Scansonic relies on HELUKABEL for these critical components. The leading provider of electrical connection technology, who has been one of the laser specialist's qualified supply partners for a number of years now, equips the optical devices in Berlin with, among other products, four different types of robotic cables. These are based on the successful ROBOFLEX product family, which was especially designed for use on and with robots. "The cables have been made to withstand chemical and thermal stresses as well as mechanical loads such as torsion and bending," explains Vincenzo Rio, global segment manager for robotic cables at HELUKABEL. "There are also cable variations available on request that are resistant to oil and welding sparks." The ROBOFLEX brand name includes sensor, data, control and motor cables and hence encompasses the entire application spectrum of cables in robotics.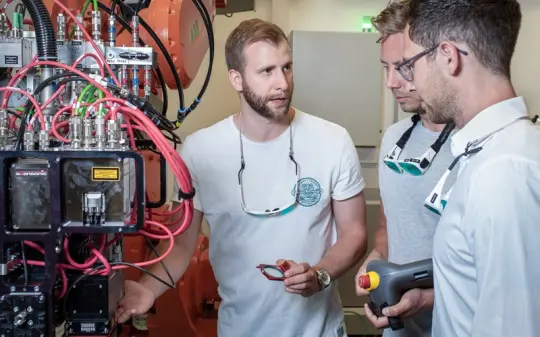 In its in-house laser laboratory, Scansonic develops and optimises new applications for its machining optics on different types of robots.
The cables on the laser processing optics from Scansonic are custom made solutions. "HELUKABEL designed these exactly according to our specifications – from the number of wires to the respective cross sections and corresponding shielding to the characteristic blackberry red colour of our sheathing," reports Christian Schwerdt. Among the cables are hybrid ones, capable of transmitting both power and data. "For us, this was a space and cost saving solution which is not typically available as an item in stock ready for immediate dispatch," says Schwerdt. "HELUKABEL advised us very well on every new development and always found optimal solutions to our very precise requirements."
Scansonic also procures various standard cables such as hook-up wires as well as glands and other accessories from HELUKABEL. Buyer Schwerdt not only appreciates the quality but also the reliable product availability: "We don't have large storage capacities ourselves which is why it's incredibly practical for us that HELUKABEL usually has all our products in stock and can deliver them quickly." With a sales and distribution depot in Neuenhagen near Berlin, the company is indeed located in the immediate vicinity. Schwerdt positively emphasises HELUKABEL's high level of flexibility: "For example, if we need to change something like a UL approval for the American market, HELUKABEL is always there to provide us with fast and competent support."
A supplier who leaves no wish unfulfilled
Thanks to this strong complete package, Scansonic is extremely satisfied with HELUKABEL. Schwerdt has no doubt that the successful business partnership, which has existed for around 10 years, will continue into the future. "Due to the time-consuming and expensive qualification process, we don't particularly like to change our suppliers just for the sake of it," he comments. "We would have no reason to do so with HELUKABEL. The quality, availability and service are just right – there's nothing that could be improved."
About Scansonic
Who:
Scansonic provides specialist systems and solutions for laser welding, laser brazing/soldering and laser hardening, and also offers associated sensor technology and quality monitoring. Already back in 2000, the Berlin company set a new industry standard when it launched its first ever product: the innovative optical machining tool for laser brazing/soldering was the first of its kind to master very fine joints on car bodies.
What:
Scansonic products are particularly used in automotive construction, rail vehicle construction and in the energy sector. The company is a leading global supplier of laser-based systems for body assembly joints. Scansonic is part of the Berlin.Industrial.Group. (B.I.G.), a conglomerate of five technology enterprises each with their own focus.
You can also find this and many other exciting articles in the current issue #12 of our customer magazine POWER. Read it now!
Back