Nothing's Impossible
Even construction sites have a postal address, but what about beyond the site fence? What's the fastest way to get cables and wires into the hands of the patiently waiting tradesman?
There's no standardised format for addresses, but there is Klaus Münchenbach. As project manager in logistics, he and his team of seven are responsible, among other things, for individually labelling and packaging shipments in accordance with customer requirements, as well as ensuring they are safely sent on their way and processed as quickly as possible.
If, for example, a delivery goes to a region where the Latin alphabet is uncommon, Münchenbach's team print and attach labels with different coloured triangles to identify the cables, thereby avoiding any misunderstandings. Special packaging such as multiple shrink-wrapped cable drums with a reflective outer foil and tear-resistant protection along the edges, whole drums in solid wood cases, or the application of flag labels to differentiate cable types after their installation are used as well. According to his motto, "If it's at all possible, we'll do it." He explains, "For air freight, we benefit from having been certified as a 'Known Consignor' by the German Federal Aviation Office. This means we're allowed to carry out the security checks ourselves." The cargo can then take off immediately without delays at the airport.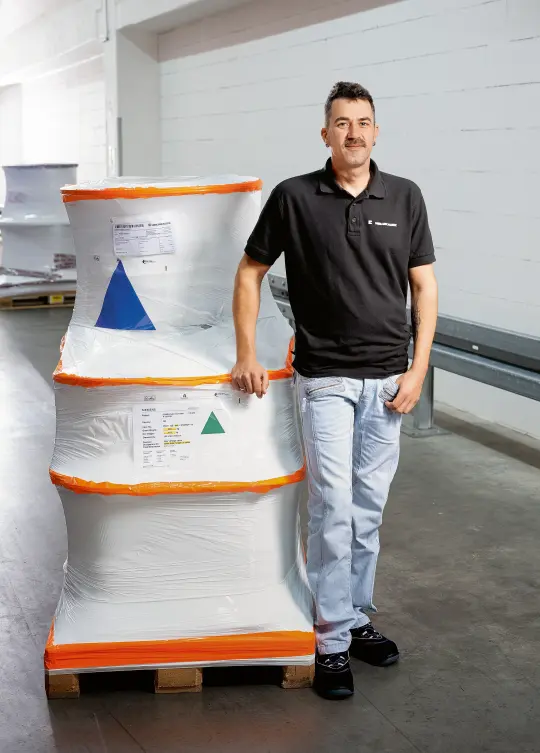 Klaus Münchenbach is project manager in logistics and together with his team takes care of consignments that are individually labelled and packed according to customer requirements. (© Tobias Bugala)
Back