First Listen Then Take Action
Jörg Kairies has been HELUKABEL's sales manager for three years. Professionally he's a problem solver, privately he's an enthusiastic mountain biker. We joined him on a bike ride and talked about his 20 years of experience in sales.

Mr. Kairies, what do customers want from HELUKABEL?
What our customers want most are quality, fair prices, and punctual delivery. They also want us to helpthem solve their problems, from processes to technical applications. That's what I actually enjoy most about my job: working with the customer to find a solution that allows them to work more efficiently, and knowing we mastered a technical challenge.
And how did you come to be the "problem solver" for your customers?
It's important to me that our people go out and meet with customers. This is something I try to do myself as much as possible. I walk through the building with the customer and ask to see the applications and the warehouse. This way you usually see immediately what's needed. It means a lot to me to be able to meet people and swap experiences; it's much better than sitting in the office five days a week. If you do that, you have little idea of what's going on in the outside world and what really matters to the customer. That's why I think it's really important for a salesperson to be an excellent listener. We have to want to understand. Of course, extensive knowledge of the materials and in-depth technical insight are also important. Then it's time for us to take action and implement the customer's wishes. I never stop trying to communicate all this to my team. Our extensive product line also plays a decisive role in solving customer problems.
What sets HELUKABEL's product portfolio apart?
We offer products for every sector and application, including: industry, infrastructure, data systems technology, reneable energy, and media technology. Every sector demands special properties, which we are able to fulfil. Be it high acceleration and very fast alternating bending cycles in drag chains for machine tools, long travelling distances on gantry cranes, or extreme angles of torsion in robotics applications, to name just a few. And if there's nothing suitable in our catalogue, we are able to produce custom-made solutions. This makes us unique in the market.
Is there anything else that makes HELUKABEL's sales operations special?
We have a team of 40 field sales representatives supported by a very strong internal sales team. Many have been with the team for a long time and have built long-term relationships with customers based on trust. Our industry specialists are also able to provide application-specific advice.
You're not just well acquainted with day to day working practices in sales in Germany; you've also worked in Asia for several years. How have you benefited from this experience?
The customs when meeting with business partners in South Korea differ from Europe. In my first few months there, I always seemed to be putting my foot in it. I didn't speak the language and wasn't particularly aware of the cultural differences. I learned mainly by watching others. For example, you should never turn your back to your business partner after saying goodbye. Business cards should be exchanged with both hands, and you should read the card there and then. That's something I've started doing here too. I still hand over my business card with two hands and read ones I've been given straight away. In South Korea I was the problem-solver as well. I worked for the same company for several years, starting off in Germany. This made me particularly well-networked in the areas of logistics, production, and engineering, so I was able to quickly help South Korean customers on site with their engineering problems. My time in South Korea was also good for my private life as I met my wife there. We've been living in Germany with our three children for eight years now.
What are the challenges of being a sales manager and how do you face them?
Stagnancy is decline. This is why we've further developed our sales strategy to skilfully merge the points of contact with the customer via both digital and classic channels. Looking after customers both online and offline is, in my opinion, the way to maintain successful customer contact and professional customer loyalty. Though this can only be achieved by creating a well-functioning team, which involves bringing together colleagues with different personalities. Continuing professional development is also a key topic for me. In our fast-moving world, where there are new innovations appearing on the market nearly every day, we need to be on the ball at all times – a major challenge which we meet with strategic training. Here too though, we always have the potential to improve ourselves.
At the end of the day, isn't it just good sales figures that matter?
Yes, that's right. At the end of the day, it's good sales figures that count. It's always been and always will be like that in every company. What's important is the road we take to achieve them, and this road is often a long one. Our customers expect added value from us. This is especially true these days when everyone can use the internet to compare products and prices so that all they have to do is choose between the many possibilities. When everything is taken into consideration, business is still done person to person. If you're aware of this, your figures will be good too.
Where do you see unexploited potential?
In my ideal world, HELUKABEL's sales structures would interconnect more, first in Germany, Europe and then worldwide. And this must happen in people's minds as well. We need to take our blinders off and see beyond the end of our noses, start thinking across borders and converge more in all areas and departments. This is the only way we'll be able to learn and profit from one another and enjoy success in the long term. It's also essential to train the next generation. We're located in a region where our competitors are huge companies. We have to remain an attractive employer and make sure that young people who join the company envision their future with us. We're already headed in the right direction.
JÖRG KAIRIES HAS TO DECIDE!
| | |
| --- | --- |
| Mountains or the sea? | Classical or rock? |
| The sea. I love the warmth, swimming, and playing in the sand with my kids. | Rock, of course. It brings back memories of my teenage years: long hair, headbanging, playing around, and just listening to good music. |
| Beer or wine? | Fizzy or still water? |
| Beer. It's more laid back. | Fizzy |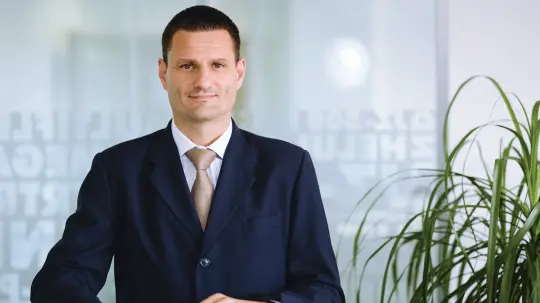 Jörg Kairies is sales manager at HELUKABEL. (© Tobias Bugala)
| | |
| --- | --- |
| What do you like best: savoury or sweet snacks? | If it has to be something sweet, chocolate or ice cream? |
| Savoury, preferably double-crunch peanuts and peanut-flavoured crisps. | Nut-flavoured ice cream! But if crème brûlée is on the menu, I'll take that instead. |
| Tea or coffee? | Town or country? |
| Coffee. I like green tea but it's too fiddly for me to make. With coffee, all you need to do is press a button. | I grew up on a farm, so definitely country for me. I experienced the other extreme when I was living in Shanghai with 20 million other people. |
| Mountain bike or racing bike? | |
| Mountain bike. My idea of bliss: cycling through forests far away from roads and cars. | |
Back