Power Supply for Profinet Participants
Power Supply for Profinet devices with pink functional earth (FE): Many dimensions available directly from stock.

Compact Knowledge:
The following applies to machines and systems that are manufactured in accordance with DIN DIN EN 60445 (VDE 0197): The functional earthing must be pink!
What is the difference between protective earthing and functional earthing?
In general, a distinction is made between two types of earthing: protective earthing and functional earthing (FE).
While protective earthing serves to protect people and animals from electric shock and provides protection in the event of a fault, functional earthing is important for interference-free functioning of electrical systems and equipment. It is essential for the regular operation of the electrical system and serves to dissipate electromagnetic interference from device electronics, thus contributing to EMC immunity.
Types of protective conductors and earthing conductors
Helukabel cables for potential earthing


HELUCONTROL® PROFINET 24V POWER PVC /+ FE PVC
HELUCHAIN® PROFINET 24V POWER PVC /+ FE PVC

PVC cable in alignment with DIN VDE 0285-525-2-11 /DIN EN 50525-2-1
Temperature range: flexible -15°C to +80°C fixed installation -40°C to +80°C
Nominal voltage: Uo/U 300/500 V
Minimum bending radius: flexible 7.5x outer Ø fixed installation 4x outer Ø




PROFINET-compliant*, highly-flexible PVC drag chain cable acc. to guideline for Profinet Draft 4.10 - Date: May 2018 Order No.: 2.252 and DIN EN 60445 (VDE 0197)
Temperature range: flexible 0°C to +90°C fixed installation -30°C to +90°C
Nominal voltage: Uo/U 300/500 V
Minimum bending radius: flexible 12x outer Ø fixed installation 4x outer Ø



Cable structure


Bare copper wire, finely stranded acc. to DIN VDE 0295 cl.5 / IEC 60228 cl.5
Core insulation of special PVC compound type Z 7225
2 cores: BN (L1), BU (N1) 3 cores: BN (L1), BU (N1), PK (FE) 4 cores: BN (L1), BU (N1), BK (L2), WH (N2) 5 cores: BN (L1), BU (N1), BK (L2), WH (N2), PK (FE)
Cores stranded with optimallay length
Outer sheath of special PVCcompound type TM2 acc. to DIN VDE 0207-363-4-1/DIN EN 50363-4
Sheath colour: grey (RAL 7001)



Cable structure


Bare copper wire, finely stranded acc. to DIN VDE 0295 cl.5 / IEC 60228 cl.5
Core insulation: PVC acc. to DIN VDE 0207-363-3 / DIN EN 50363-3 (compound type TI3)
Core identification: brown (L1), blue (N1), black (L2), white (N2) 5 cores: pink (FE)
Nonwoven wrapping min. 25 % overlapping
Outer sheath: PVC acc. to DIN VDE 0207-363-4-1 / DIN EN 50363-4-1 (compound type TM3)
Sheath colour HELUCHAIN® PROFINET24V POWER PVC (without functional earthing conductor) black (RAL 9005) HELUCHAIN® PROFINET 24V POWER + FE PVC (with functional earthing conductor) gray (RAL 7001)



Properties


Extensively oil resistant, oil-/chemical resistant
Flame retardant acc. toDIN VDE 0482-332-1-2 /DIN EN 60332-1-2 / IEC 60332-1-2



Properties


Drag chain properties max. travelling distance 10 m max. speed 3 m/s max. acceleration 3m/s² max. cycles 2M
Flame retardant acc. to DIN VDE 0482-332-1-2, DIN EN 60332-1-2, IEC 60332-1-2
Extensively oil resistant



Application


For flexible applications involving medium mechanical stress with free movement, without tensile stress and without forced movement under dry, damp or wet conditions, indoor use only.
Used as a power supply to PROFINET components on machine tools, conveyer belts, production lines and in production plants.



Application


In dry / damp rooms (not for outdoors)
PROFINET-conforming, highly flexible, PVC drag chain cable
In measurement and control technology for frequent lifting and bending stress in the automotive industry
Machine and tool construction
Permanently moving machine parts



Download Data Sheet
Download Data Sheet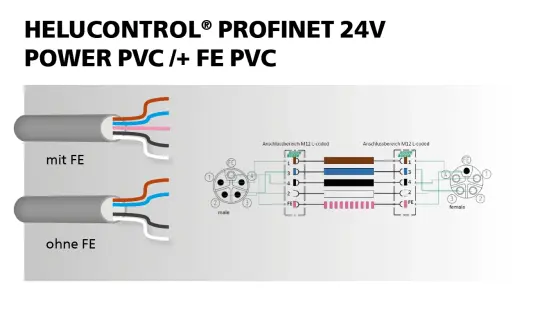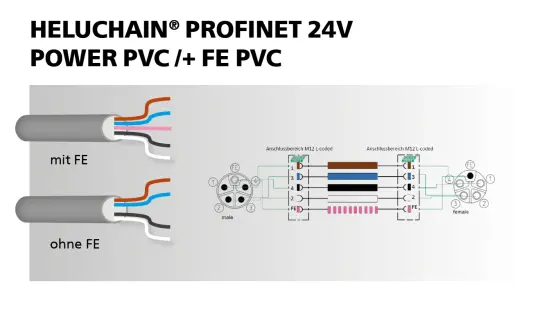 Further Helukabel products for potential equalization
Back