Fighting the Corona Virus Using UV-C Light
The Hamburg-based company Arteko LED-Lighting GmbH has, over the years, made a name for itself in the industry as a supplier of lighting solutions for offices and sports facilities. The company has now developed a range of UV-C disinfection units that kills all kinds of germs, viruses and bacteria. The so-called Mikrobex family of products uses cables from HELUKABEL, and for a good reason.

Like many companies, the Corona pandemic has negatively affected the order books at Arteko LED-Lighting. But the Corona virus, which at first seemed to be causing a slump in business, is now turning out to be a boon for the Hamburg company. "It's generally known that short-wave UV light can be used to create an aseptic environment," says Mirko Imbro, product manager at Arteko LED-Lighting. When he read about UV-C light being used in China to effectively decontaminate buses at the beginning of the Corona pandemic, he and his father Guntram Uhlig came up with their concept which subsequently became known as the Mikrobex family. Their solution for killing viruses, bacteria and even superbugs is based on light known as UV-C light. It is used by the Mikrobex disinfection units to clean surfaces and decontaminate air. "The main benefit of UV-C light is that it allows you to reach hard-to-access places without damaging surfaces," explains Mirko Imbro. Neither is there excessive disinfection which is harmful to humans. The Mikrobex units have been modelled on similar units in the medical world that also destroy the much-feared superbugs.
The Hamburg-based inventors first developed the so-called Mikrobex Channel which can be used to disinfect transport items such as shopping trolleys and luggage. "Smear infection was a big issue at the start of the Corona pandemic," explains Mirko Imbro. "Focus then shifted to aerosol transmission so we started developing our Mikrobex Air technology for air conditioning systems and manufacturing Mikrobex Air stand-alone units. These are available in various sizes and are capable of cleaning the air in spaces ranging from small offices to exhibition halls." A further step in the development was triggered by the Flensburg shipping company FRS when they approached the Hamburg company. "FRS wanted to modernise the air conditioning system on its high-speed ship Skane Jet which sails between Sassnitz on the island of Rügen and Ystad in Sweden," says Mirko Imbro. This inspired Arteko LED-Lighting to develop special structures which could be used, among other things, in grid ceilings and integrated into existing air conditioning systems. "The ventilator in the units sucks in the stale air, forces it to pass by the UV-C lamps and then pumps the purified air back into the room," explains Mirko Imbro.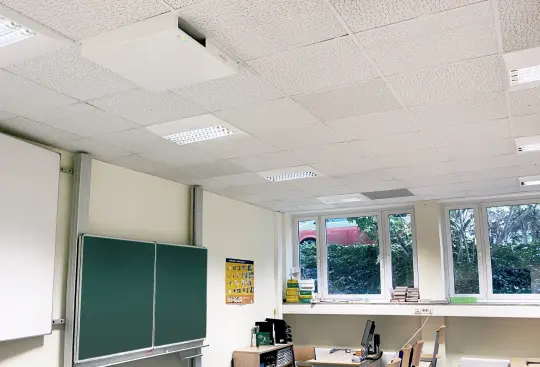 Ideal for schools: the Mikrobex Cloud is simply inserted into the classroom's grid ceiling where it silently decontaminates the air using UV-C light. (© Mikrobex)
Even though the intensity of the radiation is high and there is a theoretical risk of burns, the UV-C light does not endanger people in the room. This is because, as Imbro explains, "the UV-C rays are completely shielded in the units. Now, thanks to Mikrobex-Air technology, what used to be feared as a source of bacterial transmission is turning out, instead, to be a source of purified air. Operation does not require any chemicals and therefore poses absolutely no risk to health. Moreover, there are no annoying noises. Air disinfection is discreet and quiet, a bit like a gentle breeze." A particular challenge faced by the team during the development of the Mikrobex units was choosing the right cables to connect the lamps. Mirko Imbro is well aware that "a piece of equipment is only as good as its weakest link". The cables not only had to be UV-C- and heat-resistant, but also have a certain strength. "Flexible cables are no good because they're too difficult to thread into the lamp fittings and electronic ballasts. What we needed were rigid conductors," says Mirko Imbro, describing the requirements.
And he found them at HELUKABEL. The German cable manufacturer's HELUTHERM® 145-U single core conformed to his requirements. Explaining the choice of product, Area Sales Manager Olaf Cordes, at HELUKABEL says: "The standard HELUTHERM® 145 did not meet the needs of the customer because it's a flexible stranded cable rather than a solid one." Approximately eight metres of cable are needed for each unit. Mirko Imbro has, in the meantime, received a total of more than 4,500 orders for Mikrobex units. No wonder then that the first 15 kilometres of HELUTHERM® 145-U were already delivered in December 2020 and another 50 kilometres at the beginning of January 2021. The Hemmingen company HELUKABEL is proud to be able to contribute, albeit in a small way, to creating a more virus-free environment.
UV-C light:
Ultraviolet radiation (also known as black light) is electromagnetic radiation in a range no longer visible to the human eye. Ultraviolet means "beyond violet". It is the colour stimulus with the shortest wavelength that the eye can still discern. Beyond UV radiation are x-rays. UV radiation occurs in nature in the form of auroras and thunderbolts. UV-C light has an extremely short wavelength, spanning from 100 to 280 nanometres.
Mikrobex:
The Mikrobex range comprises a total of four products. The mobile Mikrobex Twin with UV-C lamp arms is suitable for disinfecting spaces of up to 240 square metres. The Mikrobex Air is intended for larger spaces of up to 570 cubic meters such as classrooms, gyms and museums. The Mikrobex Channel can be used to disinfect shopping trolleys and luggage on conveyor belts at airports. And last but not least, there's the Mikrobex Cloud which has been designed for installation in grid ceilings.
Do you have questions about the products?
If you have any questions about HELUKABEL products, please contact olaf.cordes@helukabel.de.
You can find more information about Mikrobex products here.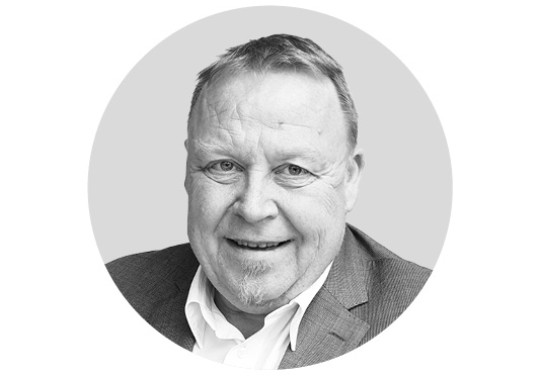 Olaf Cordes has been working at HELUKABEL as an "all-purpose weapon" and area sales manager for 18 years.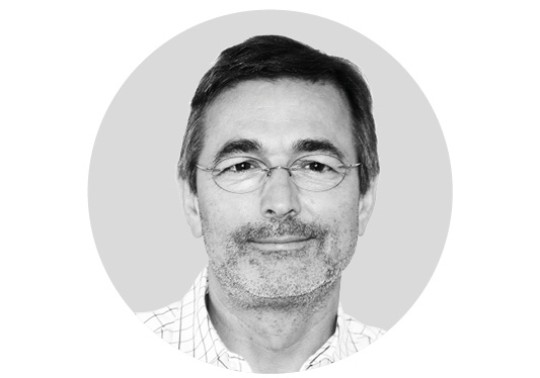 Mirko Imbro, together with his father Guntram Uhlig, had the idea of using short-wave UV-C light to create an aseptic environment. (© Mikrobex)
Back