Cabled Container Worlds

Containers are just steel boxes? Not if they're from Gföllner. The Austrians are manufacturers of sophisticated one-off items and small series – and rely on HELUKABEL's expertise and products.
Whether by ship, truck or train, enormous amounts of freight are transported in containers, day in, and day out. The standard sized steel containers have become synonymous with freight traffic throughout the world. Their deployment opportunities are far more diverse though, for example, modular container systems are used when fast and mobile solutions are required in plant construction or power plant engineering. They serve as temporary or permanent offices and facility rooms. The Austrian company, Gföllner Fahrzeugbau und Containertechnik GmbH, specialise in the production of exactly these types of containers, with a particular focus on custom-made and small series products. Over the years, the company has become the European market leader in the construction of large containers. The mega-boxes are up to 25 metres (82 feet) long, six metres (20 feet) wide and can carry loads in excess of 50 tonnes.
MODULAR CONCEPT IN XXL
Container engineering originated at the traditional company, founded in 1895, from the construction of special vehicles. That was in 1970, and since then more than 50,000 units have been shipped all over the world from the Gföllner site in Sankt Georgen in Upper Austria. "There's no country in the world where our containers aren't located," says Patrick Samhaber, technical buyer at Gföllner and one of the company's 300 employees.
Gföllner manufactures, converts and tests the containers before transporting them to their destination. When they arrive there, they are often fitted together in a modular fashion. "For example, we once joined four containers together to create a large room for the switchgear that controlled power distribution in a copper mine," explains Samhaber.
Gföllner engineers the technology and infrastructure for these so-called modular room cells in collaboration with its customers. "We install whatever the customer wants – lighting, air conditioning, power distribution, ventilation, alarm and fire-extinguishing systems, to name a few," says Samhaber. The required cables run through an underground distribution chamber, which is a raised floor in the frame of the container.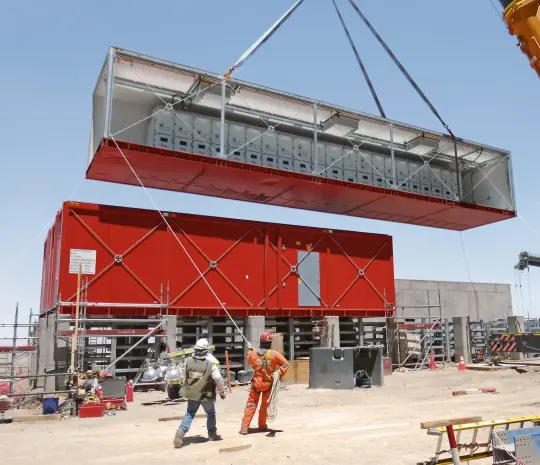 Containers are often connected to form plant structures. (© Gföllner Fahrzeugbau und Containertechnik GmbH)
"We did something like this for the Gföllner company for the first time in Austria; but it shows how well worldwide cooperation works within the HELUKABEL Group."
-Thomas Schmidbauer, Area Sales Manager at HELUKABEL Austria
The top part, known as the hood, can be unscrewed from the base frame. This allows the cables to be laid quickly and safely in the floor. To make the cable installation within a module more flexible, the underground distribution chambers may be at different heights.
Such flexibility reinforces Gföllner's claim of "finding the right solution for all applications," as Patrick Samhaber puts it. And to ensure that the solution is the best possible, Gföllner relies on products from HELUKABEL. "We install a total of 35,000 to 40,000 metres (22 to 25 miles) of HELUKABEL cables every year," says Samhaber. These are mainly control cables such as the MEGAFLEX 500, JZ-500 HMH or JZ-600 HMH. All three are halogen-free; the relevance of other cable properties depends on the application scenario and purpose. "If we're installing hydraulic systems in the containers, for example, cables must be oil-resistant, so we order those types from HELUKABEL as well," says Samhaber.
OTHER COUNTRIES, OTHER STANDARDS
The entire container, including equipment and cables, must comply with a wide range of safety regulations. The hydraulic system mentioned above is just one example of many. "Needless to say, nothing in or on a container at a refinery is allowed to melt," says Samhaber, "and containers exposed to salty sea air must be treated with special paint. It's also critical to remember that each country has its own standards and certifications". In this context, it is important to understand that 90 percent of Gföllner containers are shipped abroad in a prefabricated state to permit quick on-site assembly.
Anyone operating a facility in the USA, for example, needs to be familiar with the National Electrical Code (NEC), the safety standard for electrical installations. "Compliance with such standards is extremely important," says Samhaber, "and HELUKABEL is a particularly strong partner for us in this respect." Thus, HELUKABEL contributes to the fact that Gföllner products are properly prepared for export.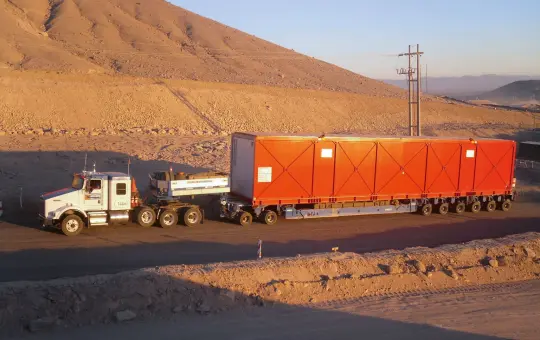 In use worldwide: Gföllner also fulfils special orders and is supported by HELUKABEL. (© Gföllner Fahrzeugbau und Containertechnik GmbH)
8,000 METER SPECIAL CABLE – ACROSS THE ATLANTIC AND BACK
What this looks like in practice is illustrated as follows: Gföllner recently received an order for containers with pre-installed generators from an engine-based cogeneration plant in the USA. The customer wanted the DLO Torsion 535kcmil power cable to be used in the containers as it met the requirements laid down in American standards for high mechanical loading and extreme weather protection. HELUKABEL was able to provide this cable in large quantities at the desired lengths – and by the required deadline. "Such cables are part of our product portfolio, so we were able to order them from our USA subsidiary," says Petra Hochrathner, area sales manager for this project at HELUKABEL Austria.
What followed was a logistical feat. "The cable drums, plus compression tools, had to be brought to us so that we could install the cables," says Patrick Samhaber. This meant shipping them from the USA to Austria, where Gföllner fitted and installed the 8,000 meters 26,250 feet) of power cable in and around the generators in the containers. They were then shipped back to the customer in the USA. The project was completed within half a year, an extremely short time for a project of such magnitude. "As far as the cables were concerned, it really was a case of travelling across the Atlantic and back," says Samhaber laughing. "It was indeed a mammoth undertaking," recalls Petra Hochrathner from HELUKABEL Austria. "We'd never done anything like that before. It also shows how well cooperation with the HELUKABEL subsidiary in the USA works."
For Patrick Samhaber, it's projects like this that distinguish Gföllner from their competitors. "We are faced with new tasks every day. We seldom have standard products because we normally just develop customised ones. That's what makes it exciting." A description that also applies to HELUKABEL – and the reason why Samhaber praises the Hemmingen
company as "highly professional and customer-oriented."
CUSTOMISED CONTAINER TECHNOLOGY
Who: Gföllner Fahrzeugbau and Containertechnik GmbH; 300 employees; already more than 50,000 containers manufactured; 70 percent export share.
What: The company, with headquarters in Sankt Georgen (Austria), was founded in 1895. In the 1970s, container technology was added to the portfolio of vehicles and trailers. Gföllner is now the market leader in Europe for large, lightweight containers.
Back