Hero of the Night
HELUPOWER REFLECT lights up and supports rescue workers in their work. Firefighting outfitter Dönges can attest to this.

Flames blaze high into the night sky, the barn is burning fiercely, and there's smoke everywhere; emergency vehicles are roaring in and firefighters are jumping out. In the glow of the fire and blue light, the hoses are unrolled. More light is needed, and where there is light, there are cables. But as things have to move quickly, cables soon become a trip hazard – unless they shine, that is. HELUPOWER REFLECT is wrapped with retroreflective foil which reflects light rays back to their source regardless of the angle of incidence. Or, as Ömer Durak, head of cable construction at HELUKABEL puts it: "The cable screams, 'Hello, here I am!'" This is a decisive advantage quickly recognised by Dönges in Remscheid, near Düsseldorf, when the cable was presented to them by HELUKABEL Regional Sales Manager Marcel Poullie. Dönges equips fire brigades, the German Federal Agency for Technical Relief, and other emergency services with everything they need to rescue, salvage, and assist. Not so long ago, Dönges only offered cables with yellow rubber sheathing. At least they were yellow. However, rubber can't "scream," which means even yellow rubber cables are grey in the dark. By contrast, HELUPOWER REFLECT is made from a retroreflective foil with a fully transparent PUR sheathing.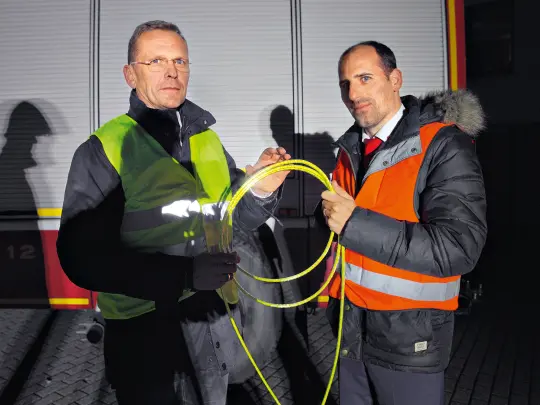 HELUKABEL Regional Sales Manager Marcel Poullie (right) didn't have to spend long convincing the Dönges authorised signatory, Klaus Trusheim, of the advantages of HELUPOWER REFLECT: the cable speaks for itself. (©Ralf Kreuels)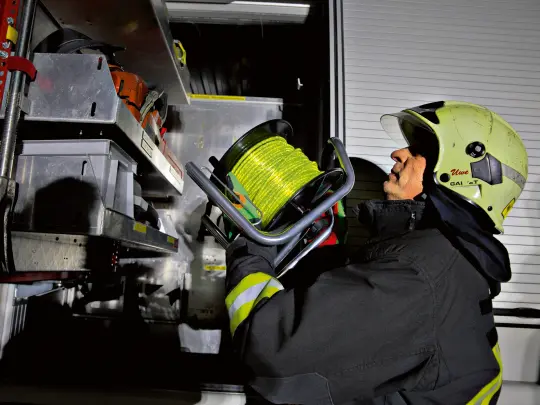 Fire engines are normally fitted with one to three cable drums. (©Ralf Kreuels)
PUR IN USE
"The PUR sheathing is perfect for our needs as the material is more resilient than rubber," explains Klaus Trusheim, authorised signatory at Dönges. "This is an advantage because during a callout, a fire engine is likely to drive over cables." Trusheim was also won over by the fact that PUR, unlike rubber, is easily washable and its lower abrasion means it doesn't turn black after lying in soot or mud a couple of times.
Firefighters and other rescue workers were equally impressed when they saw how brightly the cable shone at trade fairs such as "Florian" in October 2018 in Dresden, or "Retter" in September 2018 in Wels, Austria. Trusheim reports, "End consumers said this was exactly what they wanted." For example, the Berlin Fire Brigade, which is Germany's largest professional fire brigade with 35 fire stations, reacted very positively.
HELUPOWER REFLECT lights up the eyes of firefighters as well as its designer: "It's just amazing," says Ömer Durak about the cable that caused him a few headaches. The first request for the product reached him in July 2017. A manufacturer of timber lorries asked for an eye catching cable: the idea was that the power cable for the tail lamps could help other drivers on the road see the entire length of the vehicle.
Providing a cable with a special signalling effect is not something we do every day. "Just finding a retroreflective foil on the market seemed impossible at first," recalls Durak. After various foil manufacturers were unable to meet Durak's requirements, he finally found what he was looking for at a label manufacturer. The manufacturer made the foil for HELUKABEL and cut it into narrow strips as required.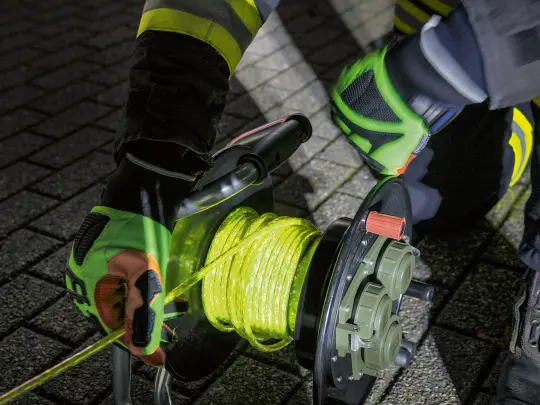 HELUPOWER REFLECT: not only does it increase safety, it's also more resilient than rubber thanks to its PUR sheathing. (©Ralf Kreuels)
Durak explains this is because the strips mustn't overlap when wrapped around the cable to maintain maximum flexibility. Another challenge facing cable designer Durak was the outer sheathing, which had to let light pass to and from the foil unimpeded. The solution was the aforementioned PUR, or more precisely, a crystalclear PUR blend. The specialist managed to find the perfect blend so that in July 2018, HELUPOWER REFLECT flowed from an extruder at the Windsbach plant for the first time: "The entire design department was there to share the experience."
"Not so long ago, Dönges only offered cables with yellow rubber sheathing. Even yellow rubber cables are grey in the dark."
-Klaus Trusheim, authorised signatory at Dönges
PRACTICAL FOCUS
Bastian Reuter was also there. As well as a cable designer, he's also a first-aider at the company and a Red Cross volunteer. "When I saw the cable, my first thought was that not only customers from the agriculture and forestry sector, but also rescue workers would benefit from HELUPOWER REFLECT, as it reduces the risk of accidents. And when you're on a call-out and things have to move fast, the last thing you want is to fall over a cable," says Reuter. Marcel Poullie didn't have to spend long explaining this advantage to his Dönges customer: "I was really quite excited when I got a sample, and when it became apparent that the cable met the requirements for firefighting equipment, both Trusheim and I were over the moon."
JUST THE BEGINNING
Dönges commissioned HELUKABEL to produce the cable in two sizes. Supplying fire brigades with HELUPOWER REFLECT is only the start if Poullie has a say in the matter: "It can really be used everywhere. Just think of industry, media technology, the camping sector. If a cable's important, it should be seen."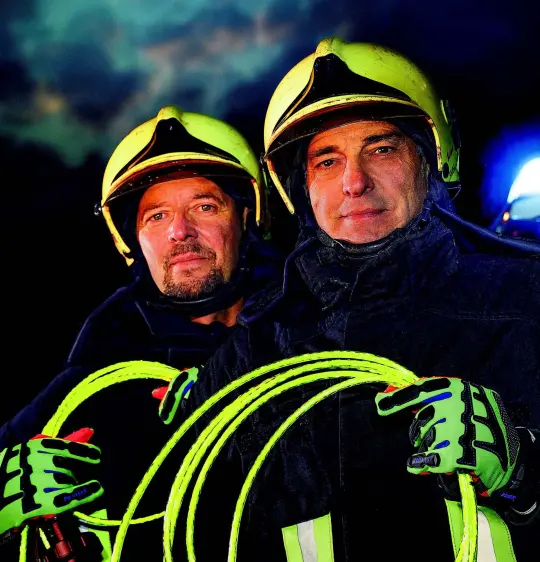 The HELUPOWER Reflect is ideally suited for operations at night. (© Ralf Kreuels)
RESOURCEFUL
Who: Dönges GmbH & Co. KG, Remscheid, near Düsseldorf, 100 employees
What: Founded in 1903 as a filecutting shop, Dönges has been manufacturing special tools for the German armed forces and the Ministry of the Interior since the 1970s. Fire-fighting equipment and forensic technology followed later as further mainstays.
Back