Industry 4.0 at the Press of a Button
The consistent logging of machine behaviour to enhance the effectiveness, productivity and safety of wire and cable production machinery: The Digital Assistant+ of NIEHOFF sets new standards.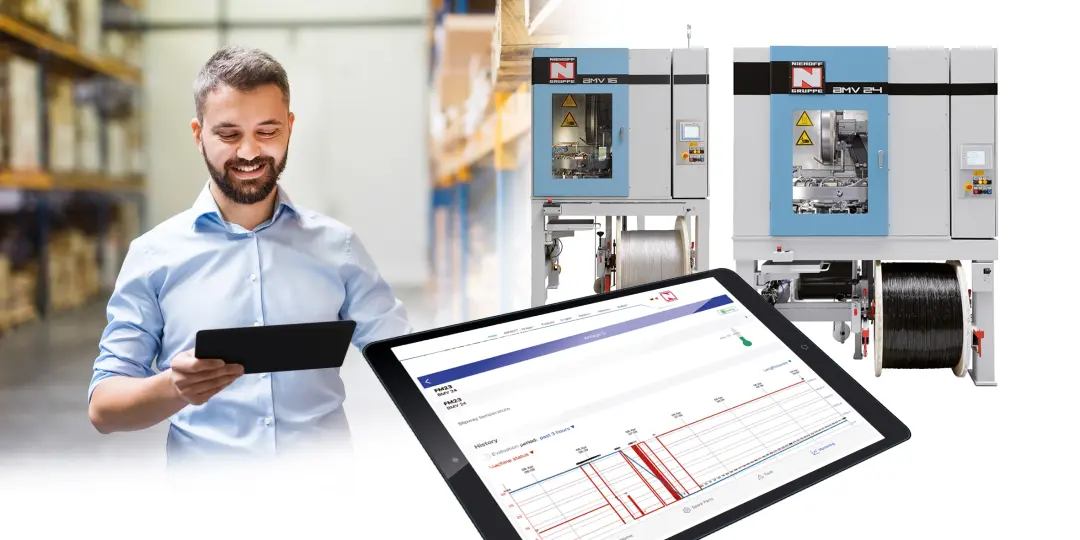 New service tool for our manufacturing plants: The Digital Assistant+ from NIEHOFF facilitates the monitoring and performance evaluation the production lines. (© NIEHOFF)
Those who work together for decades as equal partners and who engage with each other openly, honestly and fairly are those who are best equipped to make significant steps together on the journey towards Industry 4.0. With this in mind, NIEHOFF's wire and cable machinery specialists and HELUKABEL's Research and Development team in Windsbach laid the foundations for a three-month pilot project named Digital Assistant+.
This new service tool will complement NIEHOFF's service portfolio by enhancing the effectiveness, productivity and safety of its wire and cable production machinery. With its simple plug-and-play installation, Digital Assistant+ sets new standards: It consistently logs the operational behaviour of machinery in full detail and therefore removes the need for a technician to be on site at all times. With the tool's "Reports" function, production managers can perform comprehensive analyses on customer premises at the push of a button. In the event of a machine fault, optimizations can be made immediately and very flexibly to ensure high quality cable production. Alexander Volkert, member of the HELUKABEL digitalisation/Industry 4.0 team, is enthusiastic: "Web-based systems and cloud solutions are the future. With Digital Assistant+, we've taken the next step towards Industry 4.0." Together with NIEHOFF, he is already working on other new gadgets including Virtual Reality (VR) glasses, designed to be a supportive optical maintenance accessory, as well as scanner systems for more convenient aftermarket product management.
Back