Three's a Winner
On a map, the distance between a hydroelectric power station and the terminal station appear to be just a stone's throw away from each other. But if you want to install a new medium-voltage network over this area, you'll find it hard work.

Ralph Poschenrieder's hydroelectric power station is located in the Bavarian region of Allgäu at the foothills of the Alps; it converts the energy of the Upper Argen river into clean electricity. "My great-grandfather built the first part of the power station in 1927," recalls Poschenrieder, now sole owner of the power station. "He and my grandfather brought the electricity to the villages, where they sold it directly to the local residents." These days, the power station generates one million kilowatt hours of electricity each year; that's roughly equivalent to the consumption of 250 households. The electricity is fed directly into the regional grid, however, renewal work demanded by the network operator meant Poschenrieder had to install a new medium-voltage route in the summer of 2018.
THROUGH FOREST AND ROCK
The old route, installed by his father, crossed the course of the river three times and ran under wet forest soil, rocky footpaths, and along a road. Back then, they spent days trudging through the forest with a bulldozer digging the trench, and when they'd finished doing that, the men had to drag three sets of heavy cables along the winding and twisted path. He opted for a shorter, more direct route than his predecessors: "The new route is about a kilometre longer than before, plus it's steeper and runs off-road," he explains. "But we're finally rid of the old obstacles – rocks, three creek crossings, as well as the street. This makes the route more accessible to, among other things, machines, which led to the idea to lay the three cables directly for a good part of the distance."
Poschenrieder found support from HELUKABEL right away. Regional Sales Manager Thomas Hörmann explains, "It was all about avoiding both the tedious digging and the old route. It would have taken at least two weeks to dig a route not much longer than a kilometre." HELUKABEL therefore proposed the specially constructed three-chamber cable drum. In combination with a cable plough operated by Poschenrieder, this was the ideal solution as it meant the route only needed to be traversed once.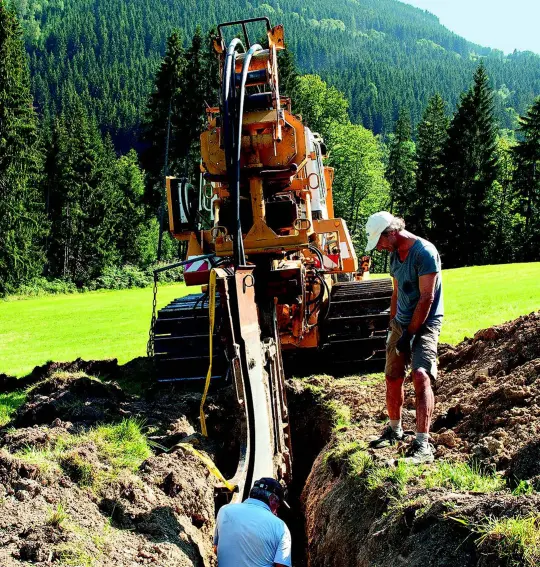 In mountainous Allgäu, Bavaria, even installing a simple cable route can be a real challenge. (©Belinda Mayer)
THREE IN ONE
"We simultaneously wound the three cables they needed onto a three-chambered drum and shipped them to Allgäu," reports Hörmann. "There, the drum was lifted onto the cable plough which then buried the three, medium-voltage cables one metre (3 feet) into the ground along the planned route." Poschenrieder adds: "The job was done in just half a day. Most of the openings in the ground will close themselves and nature will take care of the rest." He's happy in other ways too. "For example, electricity transmission losses are now much less," he notes. "And everything's state-of-the-art now. I doubt I'll have to worry myself about this again for the rest of my life."
Back