Carport Under the Sun
At Weeze Airport, near the German-Dutch border, EEPro GmbH installed carports topped with 25,000 square metres (269,098 square feet) of solar panels – in record time.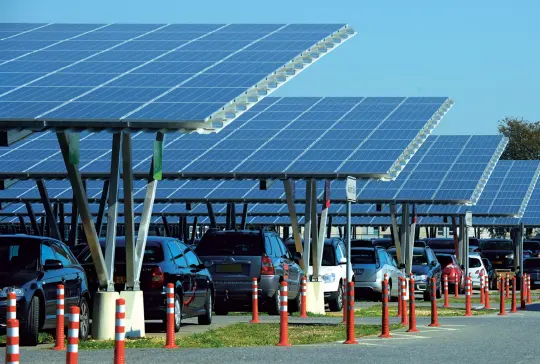 Solar panels as far as the eye can see...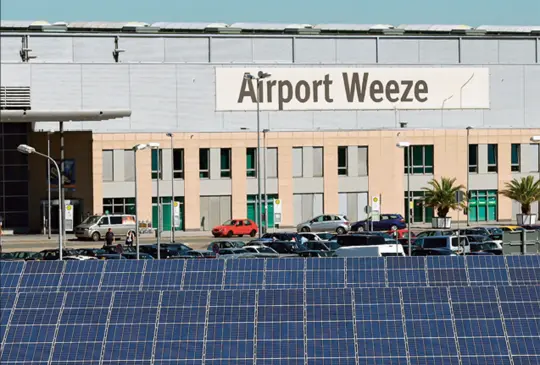 Thanks to Weeze airport's solar carport system, passengers can rest assured their cars are well-protected. (©EEPro GmbH)
Jan Kiermaier is a person who doesn't get easily ruffled. The managing director of EEPro GmbH in Simbach, Bavaria, is an expert in open-space photovoltaic systems. He and his team have already completed a multitude of projects around the world. However, installing solar panels on a carport with 1,500 parking spaces at Weeze Airport was not an easy task, even for him. "We only had six weeks from planning approval to commissioning," recalls Kiermaier.
GOOD PLANNING
Success depended on just-in-time delivery of the carport substructure, photovoltaic modules, inverters, and various electrical components to the site. Even as early as the planning stage, it was essential for Kiermaier to work with trusted partners who he knew could master the technical challenges from previous experience. "The 66 individual carport modules are up to 35 metres (115 feet) long and 13 metres (43 feet) wide. Determining the optimum angle for power generation and minimum entry-height was anything but trivial," he says. "We had to push the technical possibilities to the maximum," points out Kiermaier.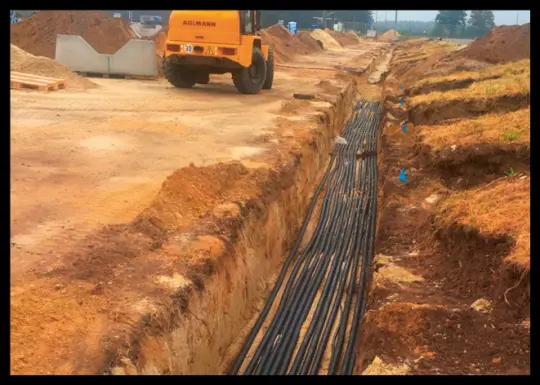 NAYY-J cables transport the power to the transformer station. (©EEPro GmbH)
SPORTY PERFORMANCE
The EEPro managing director also chose a trusted partner for the cables: "We've been working with HELUKABEL for several years now and are completely satisfied with the service. For this project, it was pivotal that HELUKABEL supplied large quantities of cables in an extremely short time."
The fast and prompt delivery of this quantity of pre-specified cables demanded excellent organisational skills, reports Günter Ehrentreich, HELUKABEL's southern region sales manager. "Field staff, sales support, and shipping all joined forces and we were able to successfully handle the project in the limited time available," he continues.
Today, the power generated by the module is transmitted to the inverter through 70 kilometres (43.5 miles) of SOLAR-PV1-F cable. The inverter connects with the photovoltaic distributors via a NYY-O cable. From there, NAYY-J cables transport the power to the transformer station. "We also used the PAAR-TRONIC-Li-2YCYv data cable to ensure the system operates in accordance with the German Renewable Energy Sources Act," says Kiermaier. A total of 15,296 solar panels have been connected this way, and his planning paid off. Cars parked at the airport are now protected from sun, rain, and hail while the rooftop solar panels feed up to four mega-watts of electricity into the operator's power distribution network.
Back