On Land, Under Water, and Aboard the IS

We encounter electric motors all the time in our everyday life: they set conveyor belts in motion at supermarket checkouts, rotate the spits in kebab restaurants, open department store doors, and operate the pumps at petrol stations. And sometimes, they even control the water cooling circuit on the International Space Station (ISS).
Ever heard of Debstedt? No? Many things that make the world go round come from there - and that's no exaggeration! ASTRO Motorengesellschaft in Debstedt, northeast Germany, develops and ships approximately 30,000 motors each year to 56 countries around the world via 27 sales agencies. When they arrive at their destination, the electric motors perform their duties in over 200 different areas of application consistently, quietly and invisibly, but above all, highly efficiently. ASTRO motors are even found in outer space: on the ISS they work in actuators to ensure that the water cooling circuit can balance high-temperature fluctuations at all times.
ASTRO Motorengesellschaft launched its first synchronous motor 35 years ago. Today, the Lower Saxon company is one of the leading manufacturers of electric motors in the power range up to 200 watts. ASTRO is global market leader for explosion-proof synchronous motors up to 20 watts and is the hidden champion in this segment. For his entrepreneurial success, commitment, and innovative power, Thomas Graudenz, managing director of ASTRO Motorengesellschaft, was not only awarded the "SME Grand Prix" for the Lower Saxony/Bremen region last year, he also received the Oskar Patzelt Foundation plaque of honour awarded to particularly innovative companies.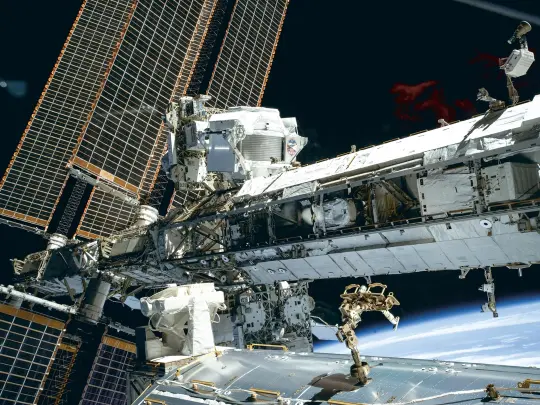 On the ISS, ASTRO motors are expected to meet the highest standards. (© NASA)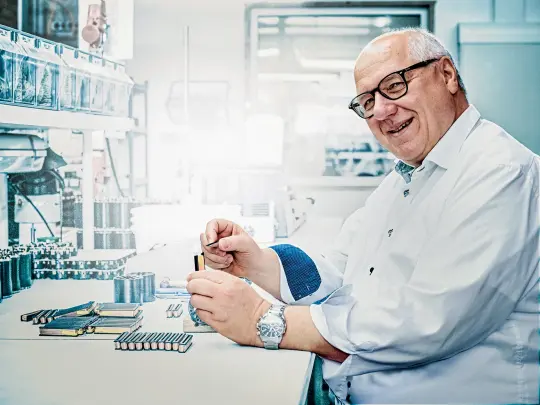 Thomas Graudenz, managing director of ASTRO Motorengesellschaft, was awarded the "SME Grand Prix" for the Lower Saxony/ Bremen region last year. (©Erik Krüger)
LOOKING AHEAD
A success which is deserved and rightly fills Thomas Graudenz with pride: "For decades we've been producing motors with the 'Made in Germany' label – a promise of quality our customers can trust." They can also trust the instinct and know-how with which Graudenz runs his company. For example, in 2002, the expensive ATEX certification from the European Union proved to be an investment in the future. It allows ASTRO to manufacture explosion-proof motors for use in refineries, biogas power plants, and petrol stations for example. "We offer these motors in two versions. The first one is restricted with an output of up to 20 watts; the other is unrestricted with a maximum output of up to 200 watts. The unrestricted ASTRO motor is housed in a crush-proof enclosure and was launched back in 2016 with an EC type-approval test certificate", explains Graudenz. "Neither motor produces sparks. This is a must in explosive environments." he continues.
Graudenz relies on HELUKABEL-quality for the cabling of its special motors. Regional Sales Manager David von der Gathen explains: "We supply ASTRO with our flexible, special PVC, JZ-500 control cable to name an example. This largely oil-resistant cable is self-extinguishing, flame-retardant, and conditionally suitable for drag chains and torsion." Due to its properties, the JZ-500 is perfectly suited for used in motors. Even the cable glands are supplied by HELUKABEL since it is essential that every individual component here is compatible with one another. The cable glands comply with international standards and are also used where high ambient temperatures exist and a high protection-class and crush resistance are required. But Graudenz doesn't enjoy a close relationship with just HELUKABEL: "I can visit any of my suppliers within 24 hours because they all manufacture in Germany. The complaint quotient for our products is in the low per mil range, which is no coincidence."
The entrepreneur can also rely on committed and qualified employees. He finds them even in the structurally lagging Cuxland region, on the coast of the North Sea. "The shortage of skilled labour is not a problem for me. I offer competent employees and ambitious newcomers many incentives, but above all an exciting and secure job in a family-friendly company. Usually I don't even have to advertise openings," he boasts. His wife Andrea ensures that the company maintains its high profile by regularly updating social media channels with news and articles about the company's diverse social engagements. Alongside her public relations work, she's also in charge of personnel, training, health and safety in the workplace, and event management.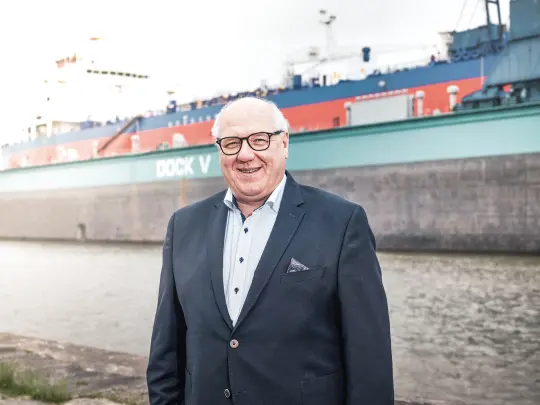 Creative mind: motors designed by Thomas Graudenz are used on board large tankers, propel submarines, and rotate kebab spits. (© Erik Krüger)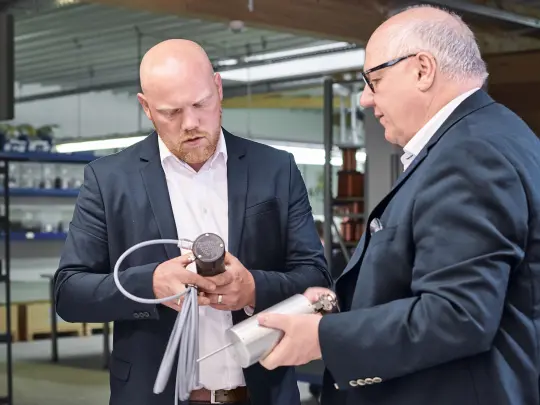 Thomas Graudenz receives expert advice from HELUKABEL regional sales manager David von der Gathen. (© Erik Krüger)
CAPTIVATING
Thomas Graudenz is passionate about his work and his eagerness resonates in all his words. His enthusiasm and openness for new things have been a driving force throughout his multifarious professional career. After graduating, Graudenz completed a car mechanic apprenticeship and then went on to study economics. This provided him with a diverse background of experience in areas such as stock keeping, quality assurance, and export trade; such skills which would later stand him in good stead. In 1999 he joined ASTRO as business manager and in 2010 he succeeded Senior Director Walter Hopp. Graudenz had already turned the company upside down by 2004 when he built a production plant in Debstedt. This paved the way for him to expand the company's product line to include new gearboxes and connections. Today, in addition to complex custom solutions, the company offers millions of combinations based on a modular concept for every application.
Graudenz has set himself a number of goals again this year: "My main focus is on growth. By 2025 I would like to double our net sales, which are currently around two to three million euros (2.3 to 3.5 million US dollars)." And who knows, perhaps there will be something else to celebrate at the end of the year, for his company has once more been nominated for the "SME Grand Prix".
ELECTRIFYING
Who: ASTRO Motorengesellschaft mbH & Co KG, Debstedt, northeast Germany, 30 employees.
What: ASTRO Motorengesellschaft develops and manufactures high-precision electric motors with a power range up to 200 watts and is a global market leader for explosion-proof motors up to 20 watts. The company manufactures series as well as highly specialised custom solutions.
Back