The Perfect Treat in 20 Seconds
The Piñabar is one of the fastest and most innovative pineapple peelers and slicers on the market. Control cables from HELUKABEL played a part in what is now a worldwide success story since the product launch.

The Piñabar delivers freshly peeled and sliced pineapples to customers in no time. (© DUTCH FOOD TECHNOLOGY BV)
Brick and mortar retail is always on the lookout for new ways to make shopping a richer experience. A good four years ago, ingenious engineers at Dutch Food Technology came up with the idea of developing a machine that peels and slices pineapples. The Piñabar was born. In just 20 seconds, the young Dutch company's self-service machine processes a whole fresh pineapple with no help and in front of the customer's eyes, before dropping it cleanly and hygienically into a bucket.
Ready to eat in an instant
Maybe you've already encountered a Piñabar at your favourite supermarket? Machines are customizable in appearance and are now located in many supermarkets such as EDEKA in Germany, the COOP in the Netherlands and Carrefour in Spain. And for over a year now, the Piñabar has been conquering the USA as well.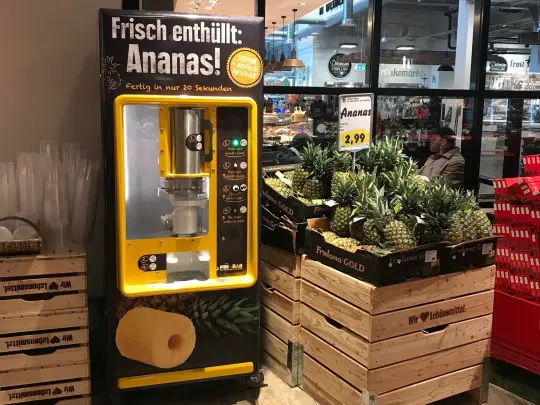 Ready, set, slice: the Piñabar pineapple machine serves...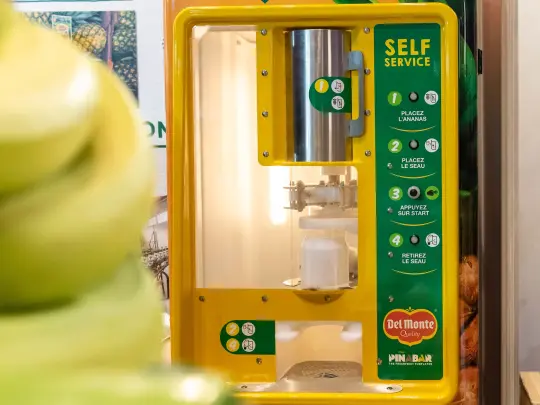 sliced and peeled tropical fruit directly into a cup. (© DUTCH FOOD TECHNOLOGY BV)
A partner for global market presence
HELUKABEL OZ-602 is a UL/CSA-certified control cable with EAC approval and has been part of the success story from the outset. The product certification along with its global availability hugely simplify market launches around the world. Supermarkets which have installed Piñabars in their stores report an impressive increase in sales of sliced pineapples ranging from 200 to 800 percent. So, if you happen to come across a Piñabar anytime soon, why not treat yourself to a freshly peeled and sliced pineapple?
See the Piñabar in action:
Back