Fast Charging for Green Buses
Schiphol Airport near Amsterdam wants to become the most efficient airport in the world. Taking passengers to and from the airport in quiet electric buses with zero emissions is key to this goal. As these buses are more often than not in continuous operation, the rapid charging of their batteries must be possible whenever the opportunity arises. To meet this demand, the world's largest fast-charging network was constructed at Schiphol in accordance with the most stringent technical standards, some of which were met through the use of cables from HELUKABEL.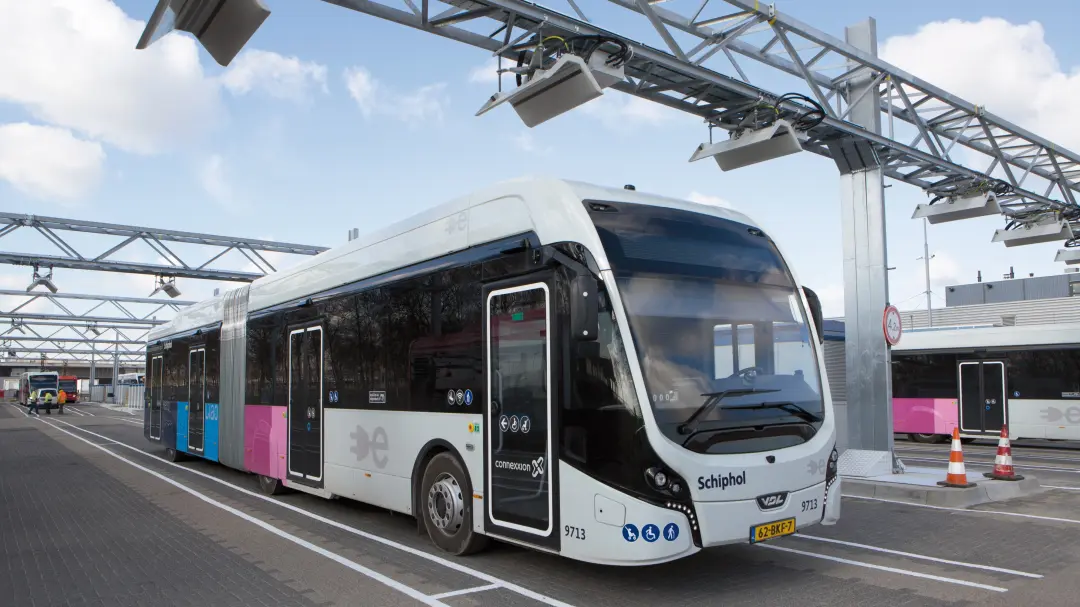 Amsterdam Airport Schiphol uses its quiet, zero-emissions e-bus fleet, charged by Heliox charging infrastructure, to transport passengers. (© VDL Bus & Coach)
Although the Netherlands is a comparatively small European country, Amsterdam's Schiphol Airport is one of the most important in a number of ways: to start with, it is the third busiest airport in Europe after London Heathrow and Paris Charles de Gaulle. In 2019, approximately 71 million travellers took off and landed there, making it one of the top 15 airports by passenger numbers. Besides being home to the Dutch airline KLM, Schiphol also serves as the European hub for American-based Delta Air Lines, the second largest airline in the world by fleet size.
Alongside its continuous focus on growth, Schiphol Airport is working towards becoming the world's most sustainable airport despite the current decline in air traffic caused by the COVID-19 pandemic. To meet this goal, a zero-emission electric bus system, transporting passengers from the airport's multi-storey car parks and public bus stops to terminal buildings and airplanes, was deemed essential. To keep the e-buses in operation for 24 hours a day, seven days a week, a fast-charging infrastructure was crucial.
A Project with Strong Partners
Heliox, a Dutch company from Best near Eindhoven, are the providers of the charging infrastructure, from its initial design to its production. Heliox has substantial experience in implementing charging infrastructure for large-scale e-bus projects. It's the company that charges the city of Eindhoven's e-bus system, which, when implemented, was the largest of its kind in Europe. More recently, Heliox set-up a charging operation in Norway's Avinor Olso airport to power electric shuttle buses. Surely enough, when it came to Schiphol Airport, Heliox seamlessly installed 109 fast-charging stations in less than nine months. Its charging solution was purchased for Schiphol Airport by Transdev Netherlands, who are also responsible for operating the bus system's 100 electric buses, the largest electric fleet in Europe. The buses were manufactured by VDL Bus & Coach, also based in the Netherlands. The e-buses are charged by Heliox's roof-mounted pantographs that dock into overhead charging stations. Battery charging begins automatically at the press of a button by the driver. The novelty of this solution is that electric vehicles have a choice: they can either fill up their entire energy stores at the depot during long idle periods, or they can take advantage of short breaks to top up extremely large amounts of electricity for a fixed length of time.
High Current Carrying Capacity, Continuous Availability and Premium Quality
To implement such a flexible charging process, the cables in the fast-charging stations had to be dimensioned accordingly. The fast-charging network delivers 13 megawatts. An impressive figure indeed. Heliox decided to use cables from the Hemmingen company HELUKABEL for the project. A total of more than 13 kilometres of HELUTHERM® 145 single conductor with cross sections ranging from 16 to 240 mm² were installed in the 109 fast-charging stations. "Some of the cables are as thick as your arm. Thanks to their higher current-carrying capacity, large amounts of energy can flow through them in the shortest time," explains Jasper van Beusekom, HELUKABEL Netherlands's Managing Director and Manager of the Heliox project. "Heliox chose HELUKABEL because we were the only company that stocked the required cables in the necessary quality and quantity," Jasper van Beusekom continues. There were two particular fundamental technical prerequisites: "First of all, the cables had to have a certain minimum bending radius because of the limited space at the charging stations. Secondly, they had to withstand high current levels and hence high temperatures. The HELUTHERM® 145 resists and uniformly conducts temperatures up to 125 deg C and, for short periods of time, up to 145 deg C," explains Moritz Barlage, Head of European Sales at HELUKABEL.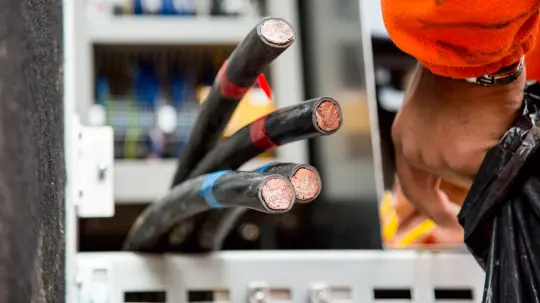 Good cable management is indispensable for e-mobility projects: (© Heliox)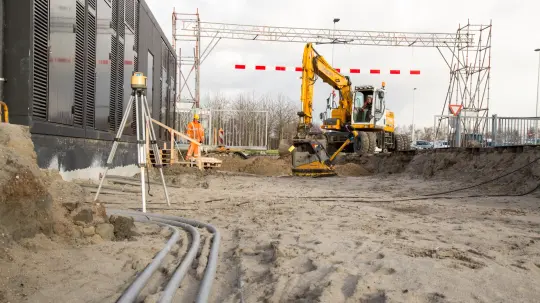 Major construction site at Amsterdam Airport Schiphol (© Heliox)
Heliox also appreciated HELUKABEL's seamless logistics : "HELUKABEL not only has a good name as one of the leading manufacturers in the electrical industry, we also know from previous projects that we can rely on them as a professional partner," says Jeroen Scherders, Director of Supply Chain at Heliox. He goes on to explain that "this meant project work progressed far more quickly because the biggest challenge was coordinating all the parties involved, which included the bus manufacturer VDL Bus & Coach, the bus operator Transdev/Connexxion, the utility company and the cable supplier." It only took nine months to successfully complete the project. "The planning was excellent and all consultations went smoothly," reports a pleased Moritz Barlage "and of course it's also nice to know that, with the halogen-free HELUTHERM® 145, we've made a small contribution to making Schiphol an even greener and more sustainable airport."
About Transdev/Connexxion: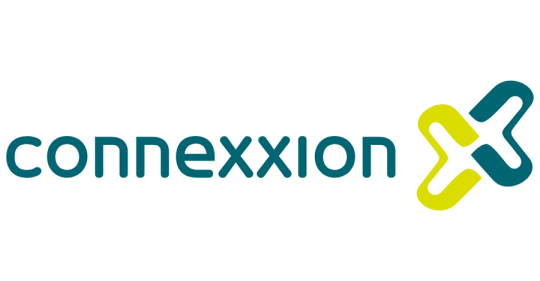 Transdev Netherlands is part of the French transport group Transdev. With locations in 17 countries across 5 continents, Transdev are a leader in mobility solutions around the world. Connexxion is part of Transdev Netherlands, and one of the largest mobility companies in the country. With the support of nearly 8,000 employees, Connexxion makes half a million journeys a day, covering a billion kilometres a year. At Schiphol Airport, it operates Europe's largest fleet of electric buses.
Learn more about Transdev/Connexxion: www.connexxion.nl/en/
About VDL Bus & Coach: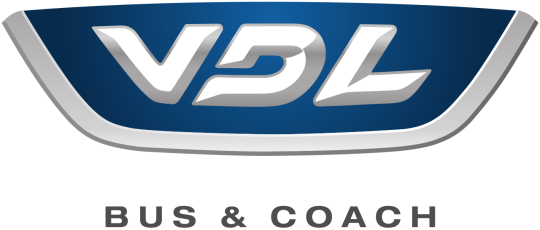 VDL Bus & Coach is one of the largest bus and coach producers in Europe as well as a market leader in the zero-emission sector. Since launching its first electric bus in 2013, the Citea buses, as they are known, have clocked up more than 100 million electric kilometres across more than 55 European cities. VDL Bus & Coach is part of VDL Groep based in Eindhoven, which employs approximately 15,000 people in 106 individual companies in 20 countries.
Learn more about VDL Bus & Coach: www.vdlbuscoach.com/en
About Heliox:

Heliox delivers complete solutions for all your charging infrastructure challenges. It covers smart charging solutions for all sorts of greener transport systems, in ports, bus depots, distribution centres or marine public transport points – from small to large fleets. Heliox has delivered reliable charging infrastructure for a wide variety of customers all over the world. If you would like to learn more about Heliox, their most successful projects or how you can contribute to creating a sustainable world, please visit their website: www.heliox-energy.com
Watch this video to learn more about this interesting project at Amsterdam Airport Schiphol:
Back