Customised Cleaning
Washing machines made by the Mexican company WashTech are used in the automotive and aviation industry to clean components. Each machine is individually manufactured to make sure it complies with the customer's requirements.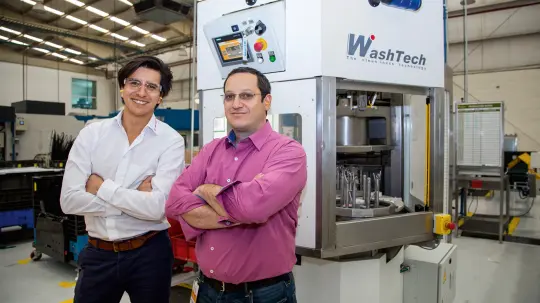 Cleaning in action: Gerardo Montenegro Aznar, managing director of HELUKABEL Mexico (left), and Mathieu Fresco, managing director of WashTech,...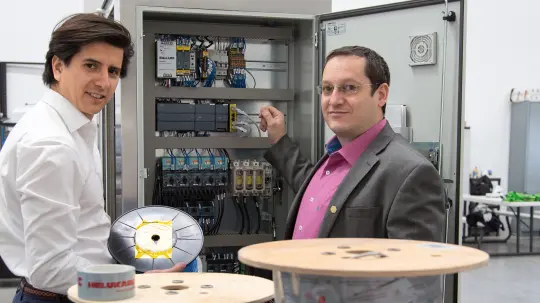 ...stand at WashTech customer Le Bélier. There, the cleaning machines are running 24/7. (© HELUKABEL / Laura Barragán)
Clean work is important; a creed that particularly applies to the aviation and automotive industries. During the production process, individual components must be cleaned repeatedly, for example, after each grinding stage or prior to assembly. This is what the machines from WashTech do. This specialised company based in Querétaro, Mexico manufactures customised cleaning machines. "At the start of development, we always try to fully understand the requirements of the customer," explains Mathieu Fresco, managing director of WashTech. "We then evaluate how we can best clean the components and adapt the machine to their exact geometry."
CUSTOM-MADE SOLUTIONS FOR INDIVIDUAL CHALLENGES
Depending how the motors, gear units, steering systems or brakes are contaminated, WashTech offers different cleaning methods including spraying, immersion in detergent solutions, or ultrasonic cleaning. "Besides the appropriate method, it's always important to ensure our machines can be seamlessly integrated into the customer's production process," explains Fresco. After all, every second of processing time and square metre of space counts in the automotive industry. That's why, when designing the machines, WashTech's primary focus is on compactness, speed, and reliability. The same quality standard applies to the cables and wires used in their one-of-a-kind machines. "Until recently, WashTech was buying products from various manufacturers. The company then began to look for a single-source supplier for the control system and control cabinet cables," explains Gerardo Montenegro Aznar, managing director of HELUKABEL Mexico.
Montenegro Aznar met up with those in charge at WashTech and presented them with HELUKABEL's product portfolio. For WashTech, a key advantage of Helukabel was their approvals for the American and European market. After all, the up-and-coming company isn't just selling its machines in Mexico, it's also steadily increasing its exports. "WashTech procures all its components from leading manufacturers, and HELUKABEL is a globally recognised brand whose products distinguish themselves through reliability, resilience, and high-quality materials. These key features are demanded of us by our customers worldwide," says Fresco. "Their cables are very rugged and withstand the high temperatures at which our parts-washing machines operate."
Montenegro Aznar explains that the control system and control cabinet cables are just the start of an intensive cooperation. "We are now cooperating with WashTech to look at how we can optimise the design of the servomotors in the machines and how our cables can contribute," explains Montenegro Aznar. "This early integration in the development process means we can offer WashTech even better support." To which Fresco adds: "We're growing rapidly and steadily. We want to continue to collaborate with HELUKABEL in the future, as we need first class materials for our machines to further our growth."
THE CLEANING EXPERTS
Who: WashTech - the cleaning technology experts; Querétaro, Mexico; 20 employees
What: The machine builder makes specialised machines to clean components in the automotive and aviation industries. Each machine is adapted to the precise needs of the customer.
THE PIONEER
Gerardo Montenegro Aznar established the HELUKABEL subsidiary in Querétaro and is its managing director. WashTech, headquartered nearby, was one of the first customers of the young Mexican subsidiary.
Back