Measurement and Winding Technology at Your Fingertips
Kabelmat presents its new products in its new premises. Customers can now make an appointment for an in-person or virtual visit, depending on their preference.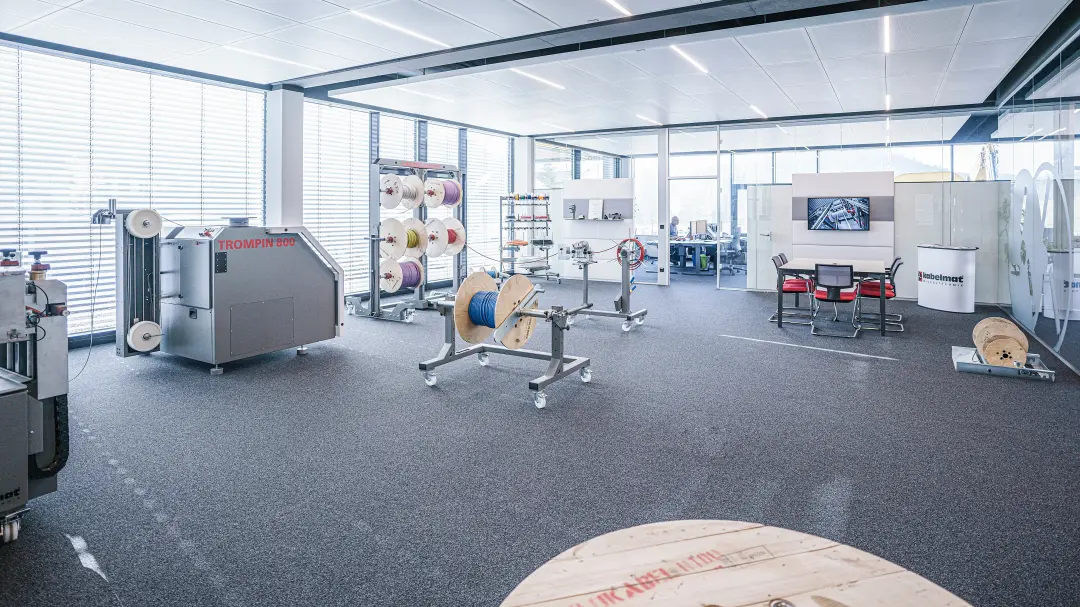 Look, touch and try: the Kabelmat showroom gives interested customers an insight into its expansive product portfolio.
With an area of 100 square metres, Kabelmat Wickeltechnik GmbH's showroom in Glatten, which recently opened, offers customers a comprehensive overview of Kabelmat's product portfolio. "Look, touch and try" is the motto here.
For example, in the showroom visitors can discover the MESSBOI 25, the latest mechanical length measuring device for the stationary or mobile measurement of almost any cable type. Or the MATBOI, which demonstrates the latest technology used in warehousing: the space-saving, flexible storage rack and unwinding system for cable tubes and profiles allow for the quick removal and assembly of different-sized coil plates and facilitate cable cutting to length directly from the rack.
So, it's definitely worthwhile to stop by! All you have to do is make an appointment before you arrive. Of course, the Kabelmat team will ensure that they are fully compliant with hygiene rules. Alternatively, you can arrange a virtual visit via Teams. The Kabelmat team is looking forward to hearing from you and is available for individual consultation at any time.

Do you have questions or would you like to directly make an appointment? If so, please contact us at:
E-mail: sales@kabelmat.com
Telephone: +49 7443 9670-0
Back