Coil winding made easy
Ongoing improvements to existing processes: with the new RINGROL 800 coil winder from Kabelmat, we wind coils to customer specifications in an instant.

Quicker processes, improved operator safety, higher precision and strain relief with every cut: these were the improvements HELUKABEL in Hemmingen looked forward to from a new coil winder. The optimal solution was developed by Michael Döring, head of logistics, and Stefan Schubert, head of technical maintenance, in collaboration with the Kabelmat team. Discussions with the winding technology experts from Glatten resulted in a list of clear requirements for the machine: not only did it need to be safer and more precise, it also needed to simplify handling and increase efficiency through higher levels of automation. Manfred Wößner, sales manager at Kabelmat, explains: "We were able to draw on our existing product portfolio to meet HELUKABEL's wants and wishes and modify the so-called RINGROL 800 to meet all the required criteria." Less than nine months later the coil winder was put into operation in Hemmingen.
State-of-the-art
"The modern semi-automatic machine places us at the cutting edge of winding technology," Stefan Schubert is pleased to announce. Another major benefit is the relative ease with which modifications can be made to the machine should it become apparent during operation that additional features are required. The coil winder, especially designed for very delicate cables with diameters of two to 30 millimetres, processes each customer order with maximum precision, no matter how bespoke it is. The newly developed strain relief or rather strain control plays an important role here. "Up to now, staff had to check every order to see if winding with strain relief was required or not. The new machine is so well integrated into the network that it can obtain this information from the master data," says Wößner. "Operators also had to use weights to mechanically and manually set up the required strain relief. That was inefficient both in terms of time and cost. Now the new coil winder does everything itself."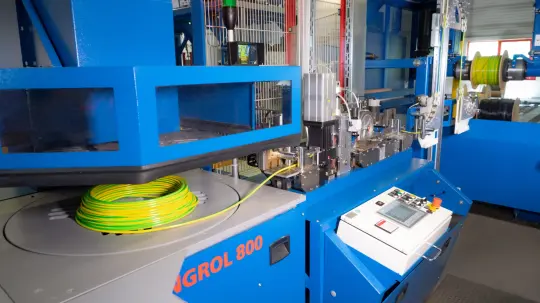 Since being put into operation at the beginning of the year, HELUKABEL has recorded less waste, whilst improving operational and working practice efficiencies.
Other significant benefits to operator safety include roto scanners which monitor precisely defined zones and immediately stop the machine as soon as the slightest movement is detected within them.
How it works
The cut-to-length process begins as soon as a customer order is entered into the HELUKABEL warehouse management system: state-of-the-art material handling equipment moves the specified cable drum directly from the high-bay warehouse to the PORTROL 1600 unwinder where two so-called centre sleeves attach themselves to the cable drum to lift it. The winding process now begins. The RINGROL 800 coil winder pulls the cable into the designated holder/feeder and then uses the transmitted product data to fully and independently configure itself. Staff are able to make fine adjustments by manually entering data via the control panel. There are also sensors to determine the cable diameter and adjust the cable guides to millimetre precision to ensure the cable is correctly guided and unwound with the correct strain relief. "This involved making improvements to the coiler head," explains Wößner. "Winding is now more precise and quicker because the winding core can be more accurately adjusted." Another piece of equipment that received an upgrade was the embedded MESSBOI 80 length measuring device. It has been retrofitted with a touch screen operating panel to greatly simplify control and data entry for the operator.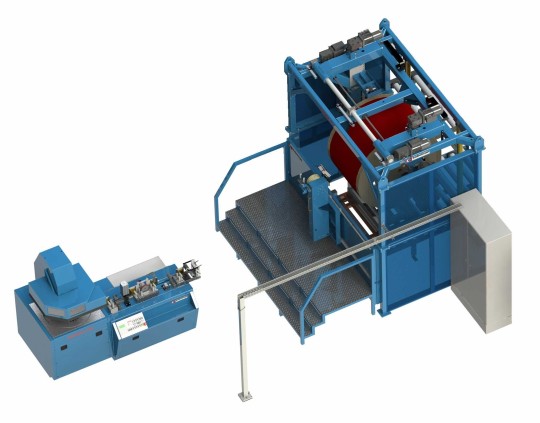 Once the cable coil has been cut exactly to requirements, staff use an integrated strapping unit to tie straps around it in four places to stop it from unwinding. "And it was precisely for this last process that Kabelmat implemented another innovation," as Schubert recalls. "To make life easier, staff push the cable coils – which can weigh up to 40 kilograms – across a workbench coated with a special surface. The Kabelmat team developed this special coating which allows coils to slide across the bench easily, regardless of their jacket material." HELUKABEL staff have now received training and are producing up to 120 cable coils per shift. Since being put into operation at the beginning of the year, HELUKABEL has recorded less waste, whilst improving operational and working practice efficiencies.
Back