Faster Customs Clearance and Lower Costs
Thanks to the "Known Consignor" status, our air freight shipments are exempt from customs checks at the airport. HELUKABEL customers benefit from this through shorter delivery times and significantly lower costs.

Goods transported by air must go through strict security checks during customs clearance at the airport: from X-ray screening to drug and explosive detection by sniffer dogs. This is to protect against terror, smuggling and other illegal activities. But all this costs time - and money. The heavier the goods, the more fees customs charge for their investigation.
However, when a HELUKABEL shipment arrives at the airport from the global logistics centre in Hemmingen, such checks do not apply. Why? Quite simply put, our company has been certified as a "Known Consignor" for years. This status is awarded by the German Federal Aviation Authority to companies whose supply chain can be classified as safe from start to finish. In order to qualify for this, however, we have to meet strict requirements.
All employees who come into contact with air freight shipments at HELUKABEL are thoroughly checked for their suitability and receive special training. The freight is packed and tamper-proof sealed in a separate storage area which is only accessible to certain individuals. The goods are then transported by truck to the airport and loaded directly onto the aircraft. Checks are carried out as random samples only in the rarest of cases. This is all made possible thanks to the "Known Consignor" status.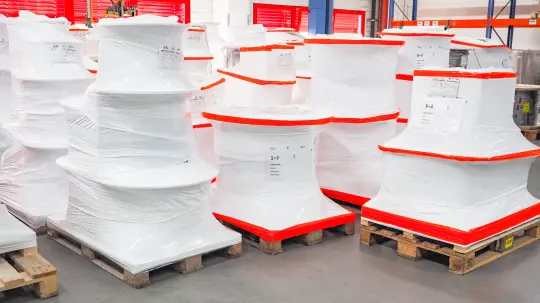 At HELUKABEL, air freight shipments are packed and tamper-proof sealed in a separate storage area which is only accessible to certain individuals.
From the warehouse by truck directly to the plane
Who benefits from this? Of course, our customers: On one hand, the elimination of customs controls shortens our delivery times considerably. After all, it is not a given for officials to check all incoming goods immediately. On the other hand, there are no fees for the security check - a sum that would be in the millions in light of our annual air freight volume. HELUKABEL passes these savings onto its customers in the form of more attractive purchasing conditions. Would you like to find out more about how our products reach you? Then take a tour of our logistics centre !
Back