Halogen-Free Connection Cable with Increased Current Carrying Capacity
Halogen-Free Connection Cable with Increased Current Carrying Capacity

Halogen-free cables and wires are not only required in buildings, they are also increasingly needed for machines and devices. The reason: in the event of a fire, halogen-containing materials can release highly toxic hydrogen chlorides and hydrogen fluorides. These gases are a major health hazard and cause expensive corrosion damage.
With HELUPOWER H07RN-F LS0H, HELUKABEL offers a halogen-free connection cable that is suitable, for example, for heavy equipment in industry and agriculture or on construction sites. The harmonized cable consists of finely stranded copper wires insulated with a special rubber compound. The outer sheath consists of a special rubber. This makes the cable extremely resistant to oil, UV radiation, ozone, weather conditions and mechanical stress. It can even be applied to outdoor and underwater operations at depths of up to 100 meters.
Another advantage of HELUPOWER H07RN-F LS0H is its high temperature resistance and current carrying capacity. The permissible operating temperature at the conductor is up to 90 degrees Celsius –this makes the cable suitable for significantly higher currents than the classic H07RN-F. Users can therefore choose reduced cross-sections, which in turn has a positive effect on the price. In addition, it allows for smaller bending radii as well as a reduced weight and thus greater flexibility and easier handling. When installed in pipes or similar closed systems, the cable is approved for use up to and including 1,000 volts AC voltage or up to 750 volts DC voltage to ground.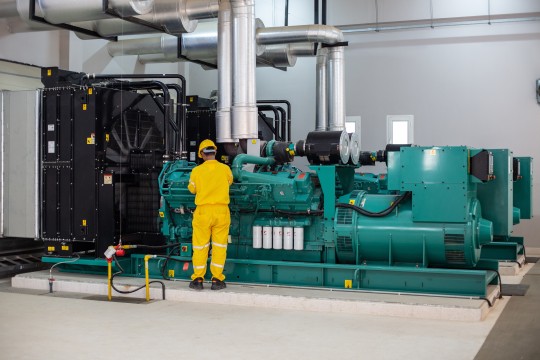 HELUPOWER H07RN-F LS0H is suitable, for example, for heavy equipment in industry and agriculture or on construction sites. ( ©Sravan Chandran - stock.adobe.com)
Back