Meticulous Down to the Smallest Detail
Inntal Kabel's managing director Michael Stadler thinks machine builders shouldn't worry about electronic component assembly. That's why he's taken this job, so they can get on with what they're best at.

It's 8.30 a.m on a Thursday morning and just like every week, a delivery truck punctually drives up to the entrance of Schechtl Maschinenbau GmbH in Bavarian Edling. It's loaded with cable harnesses, pre-assembled modules and switching cabinets for high-performance universal fabricating machines. The quantities delivered by Inntal Kabel-Konfektion GmbH, just 40 kilometres (25 miles) away, are precisely calculated for the week's assembly schedule. Schechtl and Inntal Kabel have been working together for many years. Each company does what it's best at: one designs and builds state-of-the-art precision sheet metal fabricating machines; the other deals with the complicated details of the indispensable electronic subassemblies. The requirements for this partnership are reliability and trust, which are the basis of all Michael Stadler's business relationships.
TURBO PRODUCTION FOR MACHINE BUILDING
Inntal Kabel is headquartered in Raubling, 10 kilometres (6 miles) south of Rosenheim near the beginning of the Bavarian Inn Valley. Michael Stadler's customers are machine builders, which are plentiful in the area. "There are lots of innovative companies around here and about 50 of them are regular customers of our," the owner reports. Inntal Kabel provides assembly of cables, modules and switching cabinets, but the company also provides customers with the full package: consulting as early on as the machine design stage, purchasing of all components, ready-to-install assemblies, optional temporary storage for finished goods and, of course, reliable delivery – including just-in-time delivery straight to the assembly line.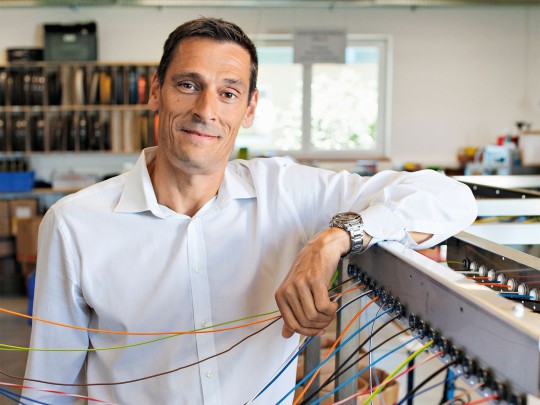 Michael Stadler is versed in electronic components. His expertise, technical abilities and industry connections make him a valuable partner for his customers. (© HELUKABEL, Simon Koy)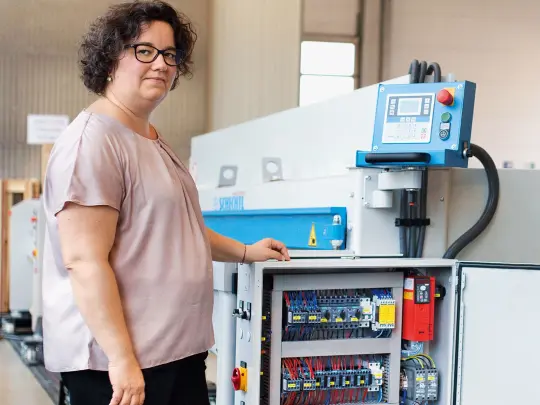 Managing Director Maria Schechtl purchases the electronic components for her universal fabricating machines from Inntal Kabel. (© HELUKABEL, Simon Koy)
PROFITABLE IN EVERY WAY
Schechtl, a machine builder, is a good example of how it pays to leave electronic components to the experts. "We've been working with Inntal Kabel since 2003. At that time, we had one electrician who built the electronic modules in a small workshop," recalls owner Maria Schechtl. "This man was always there, even when there wasn't much to do. On the other hand, if he wasn't there, things could get very tight. His skills were indispensable." When the electrician retired, Schechtl decided to go whole hog and accept the full package from Stadler. "This partnership made life easier for us in a number of ways," she says. "It saves us time, money and resources." Instead of using their expert skills on electronic sub-assembly, Schechtl now relies on Inntal Kabel. "As a result, we can react quicker to order fluctuations," says Maria Schechtl.
MAKING GOOD USE OF CONTACTS
The 300 cable types from HELUKABEL provide Inntal Kabel with an extensive assortment. The electronic sub-assemblies built by the system supplier for Schechtl also contain cables from the Hemmingen cable manufacturer. "Just as our customers rely on us, we have to be able to rely on our subcontractors," reports Stadler. This is why he's been working in close cooperation with HELUKABEL for many years. "Our sales representative at HELUKABEL, Philipp Walter, is always a great help when it comes to giving us advice about a suitable cable for a specific machine. As a bulk purchaser, we also have a strong negotiating position on price." Schechtl benefits from this business arrangement because they have been able to dispense with the cost of their workshop and material procurement as well as their cable assembly tools – some of which were quite expensive.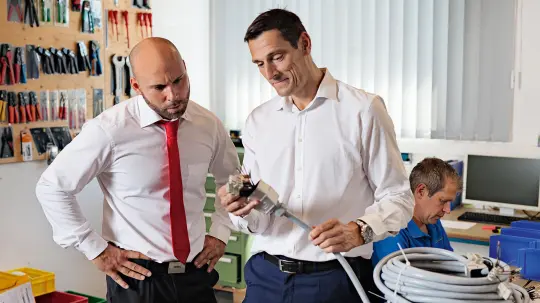 HELUKABEL sales representative Philipp Walter (left) helps Michael Stadler find the right cable. (© HELUKABEL, Simon Koy)
"The professional expertise of Inntal Kabel and their partners is very important to us. The abundance of products in the market makes it extremely difficult for our buyers to always find the perfect cable for every application. The purchasing department of Inntal Kabel have a much better insight into the market and can judge which cable is the right one in terms of quality, application and value," says Schechtl. Today, Schechtl is sending their bill of materials for small parts to Inntal Kabel, who in turn will send fully assembled modules with the proper documentation, of course.
CONNECTED WITH THE REGION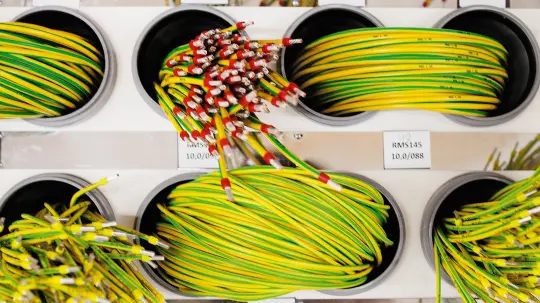 Inntal Kabel's customised electronic sub-assemblies give customers more time for important things. (© HELUKABEL, Simon Koy)
Michael Stadler is often asked how he manages to keep a competitive edge in a high-wage region like Bavaria. "Many competitors have moved their manufacturing across the border. However, this imposes a higher level of logistics and has a negative impact on response times. The supposed benefits are offset by the difficulties of installing the logistics, factory, know-how, qualified staff and floor space in these countries," claims Stadler.
"Thanks to our unique and flexible employee model, we always have a sufficient supply of manpower. Another advantage is that we can handle orders on short notice while keeping our promise of high quality," he adds. The headquarters in Raubling houses 90 employees whose skillset includes purchasing and sales, material handling, production, complicated assembly work, and quality management.
RESPONDING TO CUSTOMER NEEDS
In order for Inntal Kabel to be able to extend its product portfolio of switching cabinets, Stadler recently invested in a single core cabling machine from Komax. Among other things, Inntal Kabel regularly purchases FIVENORM hook-up wire from HELUKABEL for the high-tech machine. This PVC-sheathed single core wire is compliant with five international norms: HAR, UL, CSA, AWM, and MTW. "This multi-norm cable covers market requirements around the world and can be used everywhere," explains HELUKABEL area sales manager Philipp Walter. Another special feature is that HELUKABEL embosses the stipulated names on the conductors. Inntal Kabel then uses the Komax machine's built-in ink jet printer to label the connectors. "This helps both Inntal Kabel's wiring technicians and our customers because it makes cabling as simple as 'painting by numbers'. It's really easy to connect the designated cable to the proper hook up in the switching cabinet with the corresponding marking," explains Stadler. This has reduced wiring time in half. "Our customers and staff can now use this time for more sensible things," he continues.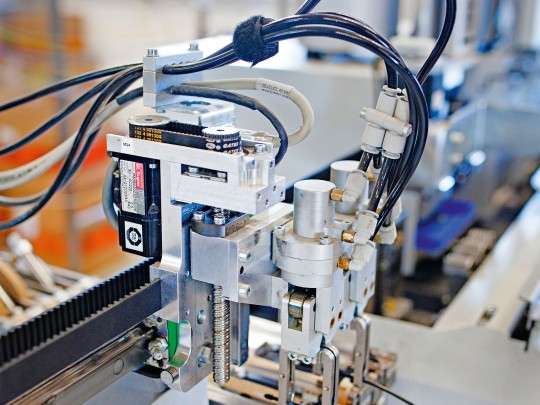 With the new Komax single core cabling machine, Inntal Kabel is expanding their switching cabinet product portfolio. (© HELUKABEL, Simon Koy)
Back