Complete Lift-Off
At VEGA Grieshaber, a KABELMAT coil winding machine floats from rack to rack as light as a feather.

The RINGROL 600, a semi-automatic coil winding machine, from KABELMAT weighs a hefty 800 kilograms (1,764 pounds). Staff at the VEGA Grieshaber KG cable assembly facility would work up a good sweat if they had to push it to the shelf with the required cable drum. But luckily they don't have to as their machine is equipped with an extraordinary feature. At the press of a button, the colossal machine hovers above the ground on a cushion of air. The idea for this unusual feature came to Stefan Kaupp, segment manager for pressure instrumentation production at VEGA Grieshaber on a visit to one of his suppliers. "I saw air cushions on a machine that was being moved around a lot and thought to myself, that would be the ideal solution for us."
COURAGEOUS PROBLEM SOLVING
At the VEGA cable assembly facility, cable drums are stored on permanently fixed shelves. The coil winding machine is pushed in front of the drum when a cable needs to be cut. "Since we more or less only assemble custom cables, we often have a batch size of one. This means the cutting machine is constantly being moved back and forth," explains Kaupp.
The KABELMAT RINGROL 600 used in the factory is typically fitted with castor wheels and brakes. Unfortunately, these sank into the factory's PVC floor making it even more difficult to move the heavy machine. Stefan Kaupp didn't hesitate to put his idea into practice. He gave the machine builder, who had installed the air cushion on their own machine, the job of redesigning his coil winding machine. "It immediately became easier to manoeuvre the machine, which in turn made the staff's lives easier," he recalls.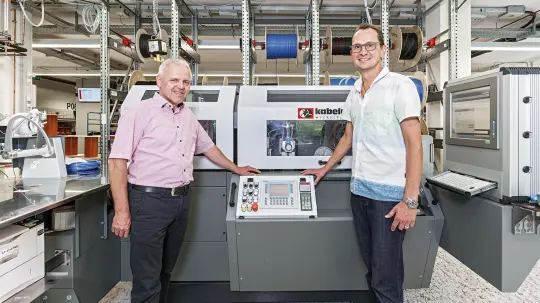 Individually manufactured 1,000-metre long custom cables are delivered to the company on drums which are stored on a permanently fixed shelf. (© HELUKABEL / Simon Wurster)
FROM GOOD TO EVEN BETTER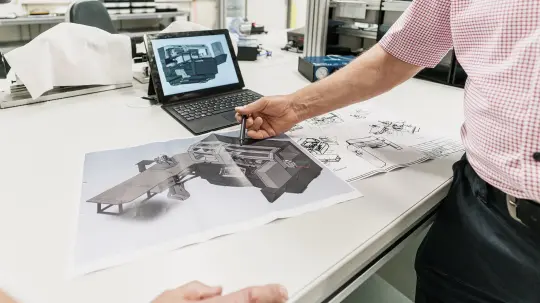 A simple yet ingenious idea: a stream of air generated under four rubber mats lifts the heavy machine two or three millimetres (one-tenth of an inch) off the ground. (© HELUKABEL / Simon Wurster)
When the VEGA subsidiary in Cincinnati, OH, USA ordered a new KABELMAT RINGROL 600, Stefan Kaupp was adamant that air cushions be used instead of castor wheels. "We've always been very satisfied with the service from KABELMAT so I talked to their sales manager, Manfred Wössner, about integrating our air cushion idea into the new machine. It was absolutely no problem for KABELMAT to do this," says Kaupp. While they were at it, KABELMAT also implemented a very practical handle and start button system that further facilitated machine manoeuvring. The new RINGROL 600 now sits on a subframe that is fitted with four, 40-millimetre (1.5-inch) diameter rubber mats on the bottom side. When the operator presses the start button on the handle using their thumb, the nozzles in the centre of each mat generates a layer of air under the rubber mats. This lifts the machine two or three millimetres (one-tenth of an inch) off the ground where it floats until the operator switches off the airflow. "Now it's more of a case of not moving too quickly to make sure the machine doesn't fly off of its air cushion," laughs Stefan Kaupp.
BELOVED MAGDALENA
Luckily this hasn't happened yet, despite the new machine being a bit temperamental to start with. "First of all, prototypes aren't usually finished products because it's not possible to think about everything in advance. Secondly, lots of our employees prefer to work on things they're familiar with rather than new concepts," Kaupp says casually.
This was also the reason why the RINGROL 600 "diva" was given the name Magdalena. "But – and this shows our decision was completely right – our partners at KABELMAT were always quick and reliable when it came to tweaking the machine, and now we're totally satisfied with it," Kaupp continued. Colleagues at the assembly facility see it this way too because they wouldn't want to do without their Magdalena today since she's always floating so calmly above things.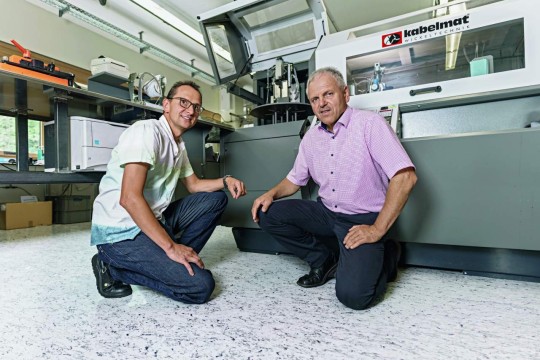 Stefan Kaupp from VEGA (left) and Manfred Wössner (right) from KABELMAT turn the colossal machine RINGROL 600 into a lightweight. (© HELUKABEL / Simon Wurster)
VEGA Grieshaber KG
Black Forest-based VEGA Grieshaber KG develops and manufactures level measurement, point level detection and pressure measurement sensors for the process industry. The company currently employs around 1,200 people and has subsidiaries and distribution partners in more than 80 countries.
Back