Projects Only a Few Dare to Attemp
Special orders are part of Elektro-Projekt Mittweida GmbH's daily business. Nevertheless, a custom job like this switch cabinet container for a steel mill is something Hubert Timmel doesn't encounter every day.

Measuring 3 metres wide, 3.6 metres high and 8 metres long (10 feet wide, 12 feet high and 26 feet long), the grey container was constructed in Elektro-Projekt Mittweida GmbH (EPM)'s production area in Frankenberg, Saxony, and soon will find its final home in Kehl, on the Rhine River in Germany. Managing Director Hubert Timmel walks into the ordinary container through one of its recessed doors. Mike Grambow, area sales manager at HELUKABEL, follows him. He's quite excited to see how the cables have been fitted. "As a supplier, I don't get this chance very often. Today though I'm going to attend a live test run." Seven solid metal cabinets – all stuffed full with control gear – fill the left half of the container. "The container is for Badischen Stahlwerke GmbH (Baden Steelworks, BSW) in Kehl. Its contents include a medium-voltage converter and the control system for an exhaust fan," says Timmel, opening one of the switch cabinet doors. Behind the door is a well-sorted array of cables, connectors and PCBs. "Alongside the usual cables such as the medium-voltage cables, there are servo cables for the fan motor. This control cable runs outside of the container and hence, is UV resistant. It connects the container control gear to the steel mill. And finally, there are all the single cores, which join the components in the switch cabinet together," explains Grambow.
Directly next to the open switch cabinet is the heart of the machin-ery: a medium-voltage frequency converter. "This is a custom feature we developed in collaboration with Siemens. We wrestled with every cubic millimetre to fit the converter into the container," Timmel explains. The converter regulates the fan speed that blows the exhaust gases from the smelting ovens through a gigantic 3-metres (10- foot) diameter pipe. "Until now the fan had only two states: on and off. BSW wanted to change this and commissioned a refit." EPM's technology will analyse the measured data from the mill and adjust the fan speed accordingly. "The measurement and data transmission cables pass the information from the mill to the computer inside the container," says Grambow, pointing out the relevant cable strands. "BSW can save so much energy this way," Timmel emphasises.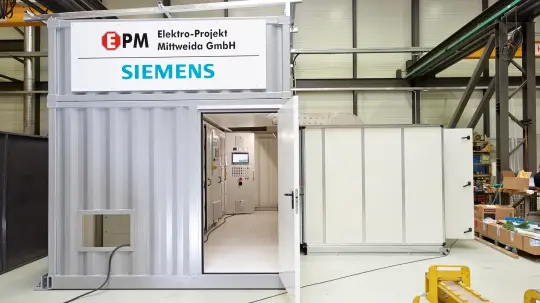 Special orders like this switching cabinet container are well within the capabilities of EPM. (© HELUKABEL / Mirko Hertel)
Hubert Timmel (l.), CEO of EPM, and Mike Grambow, area sales manager at HELUKABEL, test one again the cable connections in the switching cabinet container. (© HELUKABEL / Mirko Hertel)
A SPECIAL ORDER
Actually, custom jobs such as this one aren't really anything out of the ordinary for EPM. Exceptional solutions are a part of the company's business model. "We do things that only few dare to attempt." By 'things', he means switchgear and control gear cabinets for customers in the automotive and industrial sectors as well as manufacturers of machinery for custom applications. "We consider ourselves to be a one-stop supplier. Our scope of service ranges from hardware and software planning to shipment and commissioning." EPM has been very successful with this concept. When Timmel founded the company in the early 90s, he had 16 employees – now he has 130. Nonetheless, the Baden Steelworks order is no ordinary one, not even for Hubert Timmel. "For this project, it was essential that everything run smoothly, both technically and time-wise." A steel mill might seem to be resilient and strong, but it is actually very susceptible to faults. You can't just turn it off. Once the ovens have cooled down it takes days for them to reach their operating temperature again. A solution had to be found which didn't interrupt operations. Complicated on-site refits were out of the question, which meant the only alternative was a ready-to-use container solution. "BSW allocated two days for the commissioning." To keep to the deadline, Hubert Timmel needed reliable suppliers. EPM was the general contractor for BSW. Up to six different companies had to be precisely integrated into the tight time schedule. "We've been working together with HELUKABEL for many years, so we knew we could rely on punctual delivery."As Timmel and Grambow leave the container, Timmel recalls the successful dress rehearsal. During extensive testing over the past few weeks, every function was simulated multiple times. At the end, the technology was inspected and accepted by BSW representatives. Now it has to prove itself in practice. Walking away from Grambow, Timmel explains that the container starts its journey tomorrow; a 550 kilometre (342 mile), 10-hour journey on a low-bed trailer.
ASSEMBLY AT DAWN
One day later, at five o'clock in the morning, Timmel is standing on the grounds of the steel mill with a team of four employees who travelled with him. Most people are still asleep at this time, but Timmel and his team are wide awake. They watch with excitement as the 12- tonne container is carefully lowered by a crane, under Timmel's direction, onto a customised platform built some 15 metres (50 feet) above ground. When compared to the imposing steel mill, the container looks like a tiny building block.
"So that's the first stage completed," says Timmel, who immediately goes down to work with his team. At the end of the second day of assembly, there is a collective sigh of relief. They did it! The technology is running smoothly. But if a component should fail, a replacement is on hand. "The top of the container can be easily removed without disconnecting any power or control cables. Even larger parts can be replaced without interrupting operation for any significant length of time."
Back