More Than Two Is Series Production
With complex, custom-built machinery, MECOS Welding Installations has established its own foothold in the market. Because speed and quality are essential for survival, the company trusts in HELUKABEL.

Someone who battled through a mechanical engineering degree at the renowned RWTH Aachen University and then spent five years earning a doctoral degree in the same field, is someone who wants to make things happen. That someone is Martin Oster who, with a doctoral degree in his pocket, finally embarked on his professional career in 1995. The working world was initially a shock to him though. "I was over-qualified for most entry-level jobs or, put another way, too expensive," recalls Oster. This reality is why he decided to take fate into his own hands, venturing into self-employment and establishing an engineering firm specialising in welding applications – the start of a company with a successful history.
COMPLEX ONE-OFFS
Now, after more than 20 years, Oster is standing in the production area of MECOS Welding Installations. The building is big, roomy and bathed in light, and still smells new – the 52-year-old and his eight employees moved into the new facility near Siegen, Germany only a couple of months ago. "It's great to have more space to build bigger machinery all at once," says Oster, pointing to welding machine for tank trailers they're in the process of building for a Chinese customer. Like all the machinery built in the MECOS factory and shipped throughout Germany, Europe and the rest of the world, this welding machine is a tailor-made project. "As soon as we produce more than two of the same machine, it becomes a series production for us," says Oster smiling.
Since this seldom happens, MECOS designs, constructs, manufactures and assembles a significant number of one-offs: from large welders for tanker manufacturers and well-known ports to special applications for companies with a staff of just 30. All projects have one thing in common: tight deadlines. "We often have to build complete welding systems to customer specifications from scratch, in just 16 weeks," explains Oster. Supply delays are unacceptable to him, which is why the welding engineering specialist values HELUKABEL's fast delivery times and high product availability. His welding machines contain a broad diversity of sensors, power and control cables from the German cable manufacturer.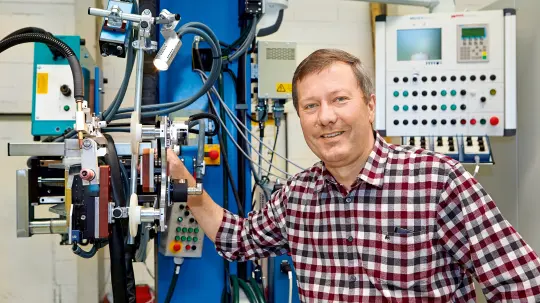 In the past 20 years, Martin Oster's company MECOS has built special machines for customers all over the world. (© HELUKABEL / Andreas Böttcher)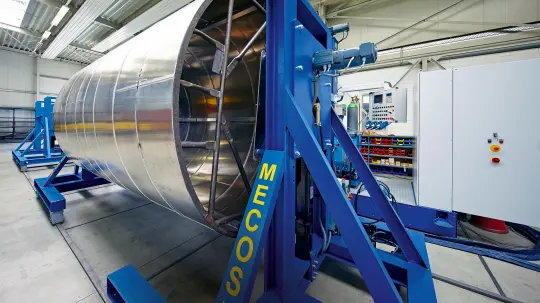 Large welders for tanker manufacturers is one of the many specialities of MECOS. (© HELUKABEL / Andreas Böttcher)
TOP QUALITY
"It goes without saying, that we always offer a warranty on our machinery and equipment. We are only able to do this because we can rely on our components being of the highest quality," explains Oster. "Many of the HELUKABEL cables we use are suitable for drag chains and live up to expectations in hard daily use. This can't be taken for granted." HELUKABEL's continuous support is another factor that is important to Oster. Time and again he needs cables fitted with supply and control functions to connect the welding machine's sensors to the control system. Thanks to Fieldbus technology, these cables simplify the time-consuming job of cabling switch cabinets and machinery. Peripheral interfaces can be moved out of the switch cabinet and onto the machinery. "I only need to contact HELUKABEL and they send me the required assembly in the right length with the correct plugs," says Oster.
HELUKABEL's area sales manager, Torsten Stein, explains how the company is able to respond quickly to customer needs: "We offer our customers a very wide range of wires and cables. To be able to maintain this quick and reliable supply of diverse products, we make use of a highly modern logistics centre. This enables us to fulfil our customers' wishes in a timely manner." This also applies to the cables MECOS needs for international orders. "If I'm working on a machine for the US market, I pass this information on to HELUKABEL who send me UL-approved cables compliant with US norms, both in terms of colour coding and core dimensions, which fit perfectly into the machine," explains Oster.
SELF-MADE FUTURE
A look at Oster's order book shows that life is going to be anything but boring at MECOS in the coming months. "We can't complain about a lack of demand," he says. The biggest challenge Oster expects to face in the future is finding qualified staff. Despite this though, the managing director is taking a vigorous and pragmatic approach: "Since there is a dire shortage of suitably qualified candidates in the job market, we are training our staff ourselves."
Back