Turning Two Into One
Single cable solutions for servomotors are becoming increasingly popular as they require less connection technology, which leads to quicker installations and overall cost savings. Thanks to continuous drag chain tests, HELUKABEL was the first cable manufacturer to prove in the spring of 2014 that their hybrid cables were capable of error-free, digital data transmission using the HIPERFACE DSL protocol, even after more than five million cycles.

Unlike the traditional two-cable solution in which the servomotor is connected to the controller by separate power and feedback cables, the single cable solution integrates the motor feedback cable into the servo's power cable. However, the downside of this solution is that the power conductors could impair data transmission if the proper screening is not on each cable element. The high durability and reliability of HELUKABEL's hybrid cables in daily use has been frequently endorsed by machine builders. One of the latest recommendations is from IMA Klessmann, who recently implemented single cable solutions. The company, based in Lübbecke/Westphalia, is a global manufacturer of assembly lines and woodworking machinery for the furniture industry. IMA has 900 employees worldwide and has been a customer of HELUKABEL since 1996. Marcel Sulewski is the electrical purchasing team leader at IMA; his direct contact person at HELUKABEL is field technical sales representative, Dirk Spranger.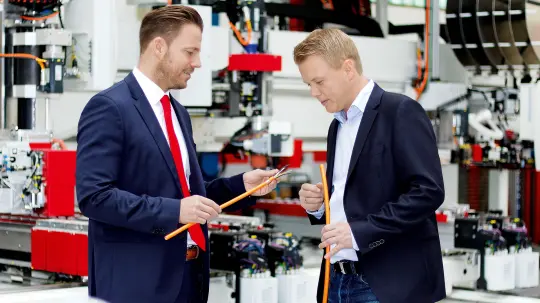 TOPSERV Hybrid cables easily withstand high levels of continuous mechanical stress. (© HELUKABEL, Detlev Haake HZWEIA / IMA Klessmann)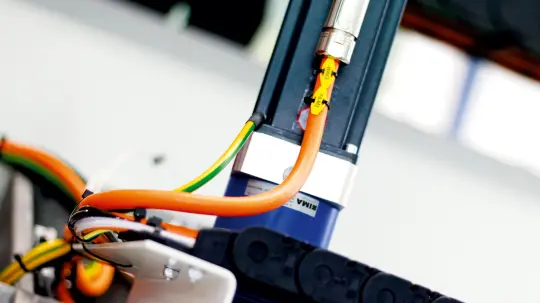 In the hybrid cable, the feedback conductors are integrated into the servo cable. (© HELUKABEL, Detlev Haake HZWEIA / IMA Klessmann)
DRILLING MACHINES FOR WOODWORKING
The furniture industry deploys IMA drilling machinery as both stationary and through-feed machinery. With feed speeds of approximately 30 metres (100 feet) per minute, multiple drills simultaneously drill horizontal and vertical holes into workpieces, which are later assembled into living room, bedroom and office furniture. Up to 90 axes can be involved in such applications. IMA have been using OCT (one cable technology) from Beckhoff Automation in their CNC drilling systems and complex manufacturing equipment since the beginning of 2015. This required a cable conversion and after being advised by HELUKABEL, the machine builder chose to use TOPSERV Hybrid servomotor cables, which have been rigorously tested and are ideally suited for highly dynamic drag chain applications. "The cables have already proven their worth in many of our IMAGIC drilling systems despite the high levels of mechanical stresses, such as narrow bending radii and fast changing bending cycles in the drag chains, as well as abrasion from wood dust," explains Sulewski. IMA has already updated their drilling applications to one cable technology. "As far as I know, there's only one motor left to be changed over in the CNC machining centres; the new generation will then be complete."
EXPERT TECHNICAL ADVICE
As the key account manager, Dirk Spranger often gets involved at IMA as early as the test construction phase. "If the cables move as a result of being integrated in a drag chain, for example, I need to know the traverse paths, speed, acceleration, number of cycles and, of course, the bending radius in order to provide the right product," he explains. "Thanks to our cable know-how, we are supporting their engineers and giving specific advice on cable constructions." A multitude of information and operating parameters, such as the required temperature range, chemical resistance, mechanical stress, approvals and norms, must be known to provide expert technical advice about which cable to use. "We have relatively specific applications. Therefore, the advice provided by HELUKABEL is unique to us. It's very much a give and take situation," is how Sulewski views their cooperation. "There's a large technical component to the decision-making in purchasing. We discuss the general technical framework in detail with Dirk Spranger who then makes specific suggestions which we analyse together. We put our trust in suppliers like HELUKABEL. After all, they are the experts and they test their products rigorously for us." Spranger adds, "We regularly discuss customer requirements with our engineering department at the Windsbach plant. The information provided by our customers is very valuable to further develop our hybrid cables. With specific test scenarios, our engineering department can run simulations to verify if our cables can meet customer requirements." For IMA, these tests proved that HELUKABEL was able to provide an appropriate solution for their drilling applications using standard hybrid cables from stock.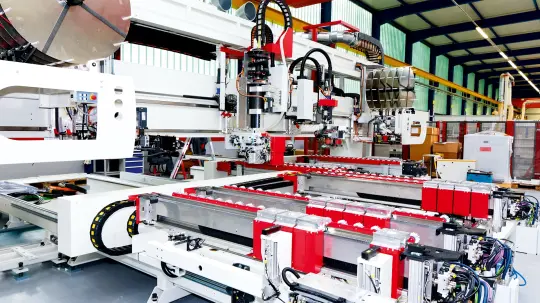 IMA relies on single cable technology in their woodworking machinery. (© HELUKABEL, Detlev Haake HZWEIA / IMA Klessmann)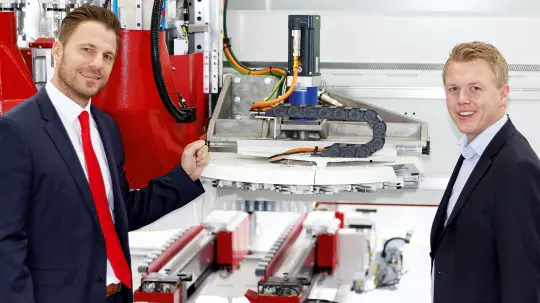 HELUKABEL'S Dirk Spranger (left) with Marcel Sulewski (right) on a company visit to IMA Klessmann. (© HELUKABEL, Detlev Haake HZWEIA / IMA Klessmann)
SIGNIFICANTLY REDUCED INSTALLATION TIMES
With the single cable solution, IMA was able to reduce the installation time for drilling machinery by an estimated 20 to 30 per cent. "Cable assembly, installation and wiring is now quicker," says Sulewski. "The space savings with the single cable solution was lower than expected though, despite there being half the number of cables. This was due to greater cross sections in the drag chains; a factor which needs to be considered as well." Far more important than the space savings from fewer cables are the reduced cable assembly and installation times. Cable replacement is also quicker and the spare part stocking levels are reduced. This occurs because it's no longer necessary to keep one set of cables for the feedback signal and one for power. But what about the costs of these high-tech cables? "I only need one cable, but it's a more expensive one," points out Suleski.
"That may not initially appear to be an argument in favour of the single cable solution. However, if you include the cable assembly and installation time-savings, the single cable solution soon pays for itself. In technical purchasing, the focus should be on the solution as a whole, not just on the product's price." At IMA, some of the applications that use single cable technology are 30 metres (100 feet) away from the switch cabinet. The first machines have been successfully operating at the customer's facility for more than a year now. "In the periods between scheduled maintenance, the cables have shown themselves to be very resilient and absolutely reliable," says Sulewski. "Even after more than five million cycles, there's never been an outage, as far as I know."
IT'S THE SCREENING THAT DOES IT
How do cable manufacturers such as HELUKABEL meet the challenge of being able to provide machine builders with functional and, above all, durable hybrid cables? At the Hanover Fair in the spring of 2014, HELUKABEL announced the addition of a new hybrid cable for single cable technology to its highly successful and well-known TOPSERV product family. At that point in time, drive manufacturers had no long-term field experience with one cable technology. This made it even more important for HELUKABEL to prove within realistic drag chain tests that their hybrid cables were properly screened and transmitting signals error-free via the HIPERFACE DSL interface, even after more than five million cycles. If a motor is working properly, the quality of the signal received is the key factor. Reducing external interference on the feedback cores increases the reliability of the data received. Protection from EMC interference is provided by data pair screening. The longer the screen keeps working, the longer interference protection can be maintained. In static applications, screening lasts practically forever. However, this is not the case for applications like robots, machine tools and handling equipment, etc. where cables are moving in drag chains and along various axes. If the screen degrades, the worst outcome is an unreadable feedback signal. Hence, the result of choosing an unsuitable cable might not be noticed until the machine has been operating for several months. What measures can be taken to ensure permanent and reliable screening in such dynamic applications? Mechanical tensile loads on the outer radius can cause the bare or tinned copper braided screen to break which, over time, can reduce the screen's effectiveness. To avoid this, the braiding angle and level of coverage of the woven screen in the hybrid cable must be optimised to the dynamics of the application and the required bending radii, as well as the speed and acceleration parameters. This is the only way to guarantee the EMC screen, even after several million cycles. For maximum screen durability, the braid should always be wrapped around the conductors at an obtuse angle. Not only does this result in higher coverage, it also improves elasticity, which reduces the tensile forces. Alongside the braided screens, the hybrid cables can also contain a special metallic, evaporated fleece. New technologies such as single cable solutions for drives are challenging cable manufacturers to develop and test innovative solutions. Thanks to the close relationship with leading machine builders such as IMA Klessmann, HELUKABEL is able to further develop its products in a realistic environment.
Back