No Upper Limit!
Forklifts from Hubtex are the ideal solution for moving long, bulky and heavy goods. The medium-sized company based in Fulda, Hessen, Germany, manufactures tailored products, providing a clear advantage over other companies that mass-produce material handling vehicles.

From aluminium profiles, flat glass blanks and air-craft engines, to wood panels, cable drums, plastic tubes, and press tools, forklifts from Hubtex can gently move heavy, bulky loads of virtually any material for any industry. The Hubtex catalogue of special solutions covers 84 pages and presents a truly impressive range of products. Stephan Hohmann, Electrical Design Special Vehicles at Hubtex, has just returned from a trip to the US, where he was overseeing the commissioning of a mobile assembly platform in an aircraft hangar. The assembly platform allows technicians to safely work at tall heights and features a lifting device that can transport all necessary parts to the fuselage. The dual capabilities of this piece of equipment have been successful for many years. Among others, HELUKABEL supplied JZ-603 control cables and MULTIFLEX 512 drag chain cables, which are UL certified. "All of the HELUKABEL VDE cables that we use are also available with UL certification," says Hohmann. "It speaks volumes that these cables have passed the strict safety inspections carried out by American aviation authorities."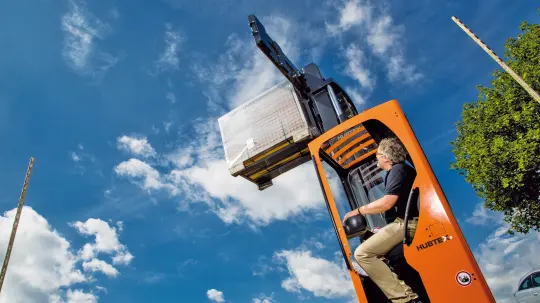 Hubtex is a leading manufacturer of special vehicles for material handling and logistics. Its forklifts, sideloaders and other special devices transport heavy, bulky goods all over the world. (© HELUKABEL / Steffen Löffler)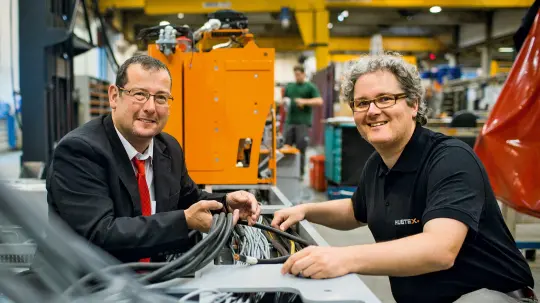 Sascha Link, Area Sales Manager at HELUKABEL (left), in a discussion with Stephan Hohmann, who emphasises, "Whenever we face a challenge, Sascha Link makes sure we quickly find a solution." (© HELUKABEL / Steffen Löffler)
CUSTOMISED INDUSTRY SOLUTIONS
Forklifts from Hubtex have also proven to be the ideal choice for the glass industry. Featuring heat-resistant cables, the forklifts remove flat glass panels directly from the autoclave, a gas-tight pressure chamber that bonds layers of laminated glass plates under high pressures at a temperature of 120°C (248°F) for increased strength. "It is even hotter in the foundry where our vehicles feature protective, heat-resistant armour, an emergency exit for the driver, and a fire-extinguishing system. These vehicles transport the convertor, for example, which is a container filled with glowing, liquid iron," says Stephan Hohmann. These vehicles are equipped with heat-resistant HELUKABEL products: MEGAFLEX 500, KOMPOSPEED 600, as well as ROBOFLEX RECYCLE cables in various cross sections.
QUALITY COMES FIRST
The makers of Gouda & Co. require extremely durable vehicles that can withstand the roughest operating conditions when it comes to the storage of its tasty blocks of cheese. Multidirectional side loaders that are deployed in refrigerated warehouses are exposed to high humidity and a high concentration of salt in the air, which requires cable to be well protected to withstand corrosion. The cables in the vehicles must also withstand the rough conditions associated with a refrigerated warehouse. To this end, Hubtex relies on JZ-500 control cables, H01N2-D arc welding cables, as well as the TRONIC and CAN Bus data cables.
When asked why Hubtex opts for HELUKABEL as its principal cable supplier, Hohmann convincingly responded, "There was an incident a few years ago that gave our electrical assembly team a very hard time. Our cable supplier at that time switched from talcum to silicone in its cables, which made it significantly harder to remove the insulation. We wanted a remedy to this problem," says Hohmann with a smile.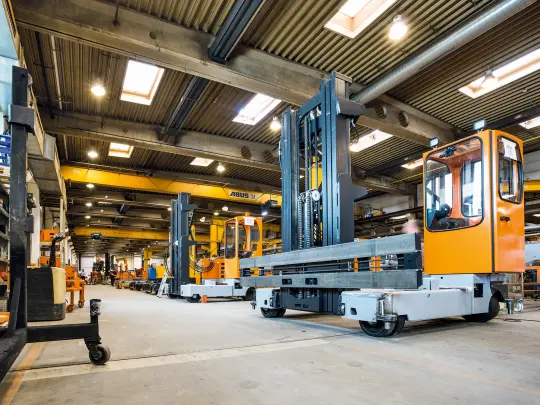 Hubtex specialises in designing solutions that are tailored to individual requirements for companies' intralogistics. (© HELUKABEL / Steffen Löffler)
He goes on to emphasise that the company puts a high level of focus on quality when evaluating tenders. "Our vehicles are often used for several shifts in a row, seven days a week. Downtime would have disastrous consequences on production processes. This means that cables, wires and connectors also need to fulfil the highest requirements." HELUKABEL succeeded in all aspects of the tendering process, impressing with exceptional product quality combined with a variety of VDE and UL certified products. HELUKABEL's strengths go far beyond what the average cable supplier offers. European and North American certification are rarely based on the same set of approval standards. European organisations generally focus on the materials that are used in the products and whether they comply with the RoHS directive and REACH regulation. Using plasticisers and/or lead is prohibited, since they carry many risks. Furthermore, cables need to be halogen-free and have low smoke density and toxicity. American certification bodies, on the other hand, prioritise flame resistance. Products from HELUKABEL fulfil both sets of requirements.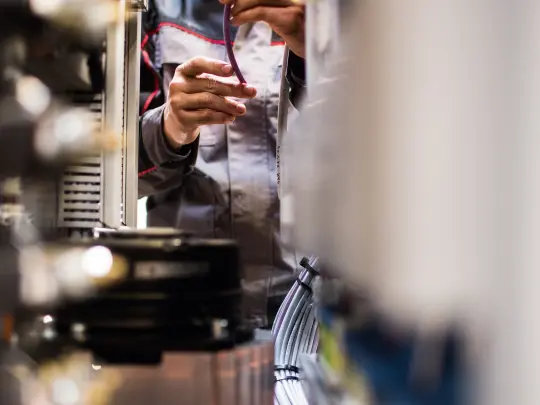 All special vehicles from Hubtex feature cables, wires and assembly accessories supplied exclusively by HELUKABEL. (© HELUKABEL / Steffen Löffler)
Stephan Hohmann and his design team develop special forklifts for moving heavy loads to tall heights. (© HELUKABEL / Steffen Löffler)
NO CATALOGUE GOODS
Hohmann recognises HELUAKBEL's strengths in highly flexible and high-performance cables, which can withstand millions of cycles in drag chains without corkscrewing. The cables can also be installed in very tight spaces and in the roughest environmental conditions, such as extreme temperatures. The price-performance ratio also fulfills purchase requirements. An additional deciding factor was the behaviour of the cables during installation. "HELUKABEL products are very easy to process, whether they are PUR or PVC cables," says Hohmann. Even though most machines are customised products, the electrical assembly team uses pre-determined construction kits. This means that new solutions can be quickly developed from tried and true components. "Functions such as steering and driving are invariable. Therefore, we revert to the basics," says Hohmann.
Another benefit of using HELUKABEL products is the excellent consultation skills provided by Sascha Link, Area Sales Manager. Link is more than just a salesman to Hohmann. "Whenever we face a new challenge, Sascha makes sure we quickly find a solution. We also discuss our ideas with him and he regularly offers convincing alternatives," Hohmann says. This is how a simple supplier relationship quickly turned into a valuable partnership. Special vehicles from Hubtex now feature cables, wires and assembly accessories that are supplied exclusively by HELUKABEL.
FORKLIFTS FOR THE ENTIRE WORLD
Hubtex, based in Fulda, Germany, is a leading materials handling and logistics vehicle manufacturer and specialises in producing custom-built vehicles. Forklifts, side loaders and other special devices from Hubtex transport unwieldy goods, often weighing several tonnes, through the corridors of manufacturing and trading companies worldwide. The company has continuously grown since it was founded in 1981 and currently employees over 300 employees.
Back