Endurance Tests for the Wind Industry
In order to harness the power of the wind, several cables need to function reliably and fulfil many different technical requirements. For the continual development of turbines used all over the world, W2E collaborates with HELUKABEL.

Wind power is now an established component in the global energy mix. Much of it is produced with turbines from W2E Wind to Energy, a developer based in Rostock, Germany. Time and again, this company finds itself grappling with cable challenges. Dr. Torsten Schuett, Head of Electrical Engineering at W2E, says, "The first thing everyone thinks about is how to transfer the power that is generated. Our turbines currently have a capacity of around three megawatts, which involves currents of several thousand amperes." However, in addition to the actual power cables, there are many other important cables in the nacelle and tower that make sure the wind turbines are operating properly. These cables transport data from various sensors that measure pressure, rotational speed, power, voltage, temperature and oil level, for example. Such cables may also control various motors that make sure the nacelles and rotor blades are facing the direction with the most amount of wind. Beyond that, there are still more cables that operate outside the actual wind turbines. Fibre optic cables network the entire wind farm, allowing the operator to keep track of all of the information in real time at all times. Uwe Schenk, Global Segment Manager Wind at HELUKABEL, supports W2E with all of the technical questions that arise. "We've been dealing with wind energy for a very long time, so we have a lot of expertise in the challenges that are involved. It has always been important for me personally to be there for the customer on site," Schenk says. "This is the only way to find out where the real difficulties lie and how we can contribute as a cable manufacturer."
The Biggest Challenges For Cables in Wind Turbines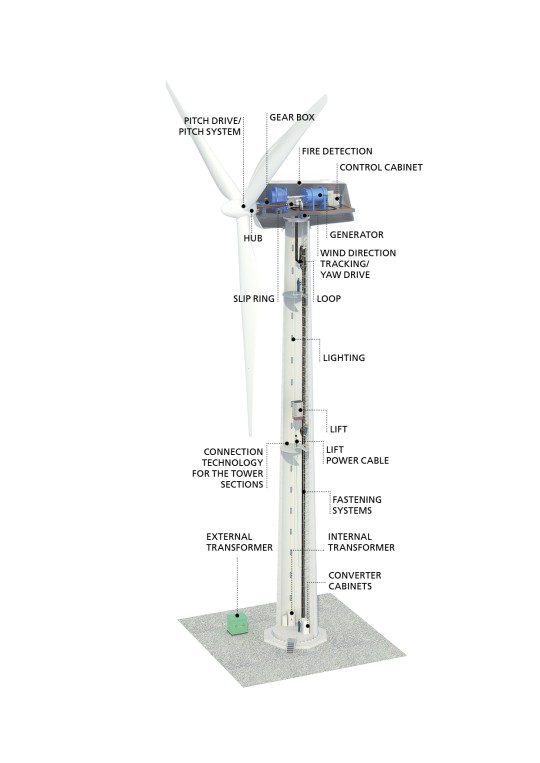 (© Dr. Torsten Schütt)
International Guidelines
International standards and guidelines such as UL, IEC or CSA may pose a big challenge for wind turbine developers. For example, UL 6141 came into effect in May 2016, stipulating that all accessible cables in North America need to be laid in cable trays. If this is impractical or impossible, only tray-rated cables are allowed for exposed run. W2E relies on HELUKABEL to stay on top of such requirements and to comply with the necessary standards. If a product is approved for use in many regions, the developer can carry out international projects easier.
Potential equalisation
Wind turbines are very susceptible to lightning strikes because they contain a large amound of metal, are taller than most structures or objects nearby, and are exposed to the elements. Lightning most often strikes the rotor blades and needs to be diverted from the hub and tower. Lightning-attracting receptors discharge the strike's energy at preferred attachment points. The dispersion process is more challenging for lattice towers, since unscreened cables need to be protected in a Faraday cage. It is therefore easier to simply use screened cables.
Abrasion
Cables that are laid tightly together in the loop constantly rub against one another due to torsional movement. This abrasion reduces the wall thicknesses, which can damage the wire insulation and copper strands over time. To prevent this damage, HELUKABEL uses polyurethane and comparable thermoplastic elastomers. This finishing provides an additional layer of protection. The outer sheath must have a low-adhesion surface in order to ensure that the cables glide past one another smoothly.
Temperature
Bitter cold and blazing heat - wind turbines are found in a wide range of locations and are frequently exposed to extreme temperature and sometimes, large temperature fluctuations. The cables are made of special synthetic materials that are designed to withstand temperature ranges from -55°C to +145°C (-67°F to +293°F). The respective products are designed for use all over the world, eliminating the need for different versions.
Electromagnetic compatibility (EMC)
A screen prevents electromagnetic interaction between the cables installed in the wind turbine, which could otherwise lead to serious malfunctions in the system. HELUKABEL recommends using a D screen (wrapped screen) in order to guarantee optimal long-term screening for torsional applications. This is especially true for the cables laid in the loop, which need to meet stringent construction requirements.
Torsion
The cable loop ensures that the nacelle and rotor blades can rotate into the optimal position based on the wind direction. The torsion-resistant cables that are used within the loop need to be able to twist up to three times around their own axis. In order to accomplish this, extremely durable class 5 and class 6 copper conductors with optimised lay lenghts are used. Special abrasion-lengths are used. Special abrasion-resistant materials serve as insulation for the wires and sheath, allowing the cables to withstand 18,000 torsion cycles.
Halogen-free
Insurers insist on the use of halogen-free materials in order to prevent costly damages in case of fire. This prevents contamination from toxic gases and corrosive acids that arise when halogenated materials burn in humid conditions.
Oil resistance
In the wind industry, special oils are used that impose a challenge for many materials commonly used to make sheaths. Many of these materials fail the accelerated aging test when exposed to these oils. HELUWIND WK products are therefore tested for their long-term durability, in addition to VDE or UL (Oil Res I, Oil Res II) test procedures.
THAT'S WHAT THE PROS SAY: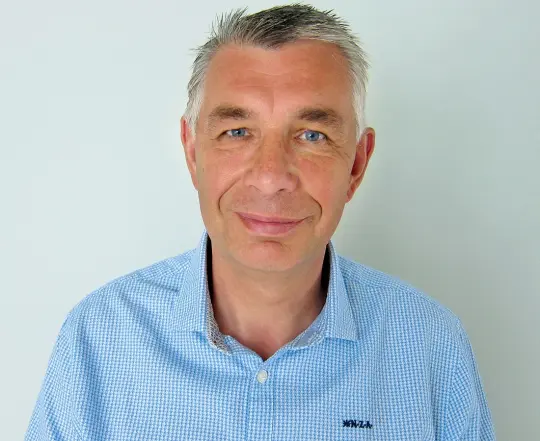 (© HELUKABEL)
Dr. Torsten Schuett, Head of Electrical Engineering, W2E
"The wide range of international guidelines can make developing wind turbines for the whole world a challenging task. In order to minimise our costs as much as possible, we are looking to purchase as small a range of cables as possible, which are certified for use in many different countries."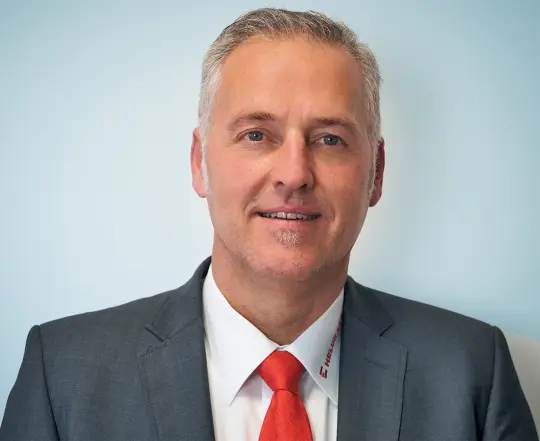 (© HELUKABEL)
Uwe Schenk, Global Segment Manager Wind, HELUKABEL
"I have seen many cables in the loop that are not able to handle torsional movements. The consequences were kinks, wire breakages and material abrasion, which in turn led to turbine downtime and expensive maintenance. In order to prevent this outcome, we put our cables through the strictest tests for long-term usability."
Back