Jason Walks Again
Robotic exoskeletons from American company Ekso Bionics help patients with stroke and spinal cord injuries to stand upright and walk again. These devices are controlled through a user interface connected by a cable from HELUKABEL.

Jason Gieser is taking a walk through a rehabilitation centre in New York City, NY USA. This isn't in and of itself particularly noteworthy. But the black metal exoskeleton around Gieser's legs, and the peculiar backpack he is wearing suggest that something extraordinary is going on. There are batteries along side the backpack powering little motors in the exoskeleton, which in turn are moving Gieser's legs. The situation resembles a scene from a science fiction movie, but this is no far-fetched futuristic dream. The truth is that he can stand upright and walk again. The police officer has been bound to a wheelchair ever since he was diagnosed with a severe spinal cord injury after being involved in a motorcycle accident. "When I took those first couple of steps after two years in a wheelchair, I was overcome with emotions. I was so thrilled. It felt like I was about to fly into space," Gieser recalls.
HELPFUL WALKING AID
The Ekso GT from Ekso Bionics, based in Richmond, California, is responsible for these happy moments. The company has been developing and perfecting the computerised robotic exoskeleton since 2005. The device is now helping patients in over 120 rehabilitation centres worldwide. The most important area of application of the versatile high-tech walking aid is in rehabilitating patients with spinal cord injuries or stroke-related impairments. For stroke patients, the exoskeletons move the patients' legs, which in turn allows the brain and muscles to gradually relearn how to move and control the body. For complete spinal cord injury patients the device provides a host of wellness benefits and empowers the wearer. The device single-handedly performs a task that would otherwise require the support of three to four physiotherapists. A specially trained physiotherapist known as a "spotter" provides guidance as the patient attempts to walk.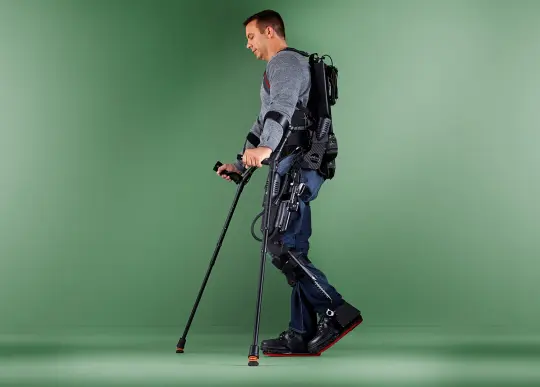 Thanks to the Ekso GT, Jason Gieser can walk upright again - despite his severe spinal cord injury. (© Ekso Bionics)
Rochelle Rea, Director of Hardware/Software Engineering at Ekso Bionics, says, "The newest version of the Ekso GT can vary the amount of assistance it provides to the patients, performing anywhere from zero to 100 percent of the walking motion. This means the device is constantly adapting to the patient's level of progress." There are several ways to control the device. Patients can either steer it like they would a Segway – by adjusting their centre of gravity – or a physiotherapist can accompany the patient, controlling the steps via a user interface. This allows the device to adapt precisely to the speed, stride length and weight of the patient.
THE PERFECT CABLE
A screened, polyurethane (PUR) spiral cable from HELUKABEL connects the remote control to the exoskeleton. One of the benefits of the cable in daily use is the fact that it doesn't get tangled up, even when there is a lot of movement or when the patient frequently puts on and takes off the backpack. This enables the user to devote all of his or her attention to the actual task at hand. Describing another benefit of the cable Rea states, "The Ekso GT serves a large market population. We are targeting an estimated 680,000 stroke and SCI patients in the US alone. It was very convenient for us that HELUKABEL has a standard cable in its product range that perfectly meets our requirements. This means we can keep costs low instead of relying on expensive customised products. At the same time, we were won over by the quality of the cable."
This benefit will also come in handy for an important plan Ekso Bionics has for the future. After a complicated process, the company recently received clearance from the American Food and Drug Administration (FDA) to market the Ekso GT to rehabilitation hospitals and clinics. Ekso Bionics would like to use this opportunity nationwide as soon as possible, and low costs will play an important role. The device made the happiest day of Jason Gieser's life even happier. "I was able to stand upright and walk down the aisle with my wife at our wedding thanks to the Ekso GT. It was a truly wonderful feeling."
Back