At Home in the Seaport
Elektrotechnik Janssen, ABB Crane Systems and Hans Künz Krane supply fully automated container cranes for transport hubs around the world. HELUKABEL is there as well.

It's fascinating to watch what goes on in the cordoned off safety areas of the fully automated container terminals. As if by magic, driverless towing and loading vehicles, and cranes move seamlessly according to an invisible choreography. They are guided by a high-performance computer system in conjunction with a navigation system which operates with millimetre accuracy. For example, at the Hamburg Container Terminal Altenwerder (HHLA-CTA), 19,000 passive, permanently installed transponders communicate with vehicles and fully automated container cranes so efficiently that nothing ever goes wrong. In between, power and control commands are transmitted by kilometres of cables and wires.
GLOBAL EXECUTION FROM NORDENHAM
In Hamburg, Rotterdam and Vancouver, the cabling of the fully automated container cranes is undertaken by a medium-sized company from Nordenham. Elektrotechnik Janssen GmbH currently employs a mere 51 employees Nevertheless, Sales Manager Peter Dindas and Operations Manager Michael Schlake handle the large-scale orders with skillful project management. Experienced employees manage expert colleagues from temporary employment agencies.
Everything began at the Container Terminal Altenwerder in the Port of Hamburg with the installation of 14 fully automated container cranes. A Swedish-based general contractor, ABB Crane Systems, programmed the crane controls.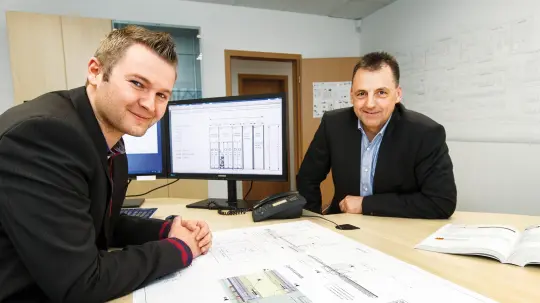 Michael Schlake (left) and Peter Dindas ensure customer satisfaction with skilful project management. (©HELUKABEL / Andreas Burmann)
The steel structure was supplied by Hans Künz Krane, an Austrian crane specialist, while the cabling was overseen by Elektrotechnik Janssen from Nordenham using cables supplied by HELUKABEL. This terminal became a long-term winner for the medium-sized company from northern Germany. To date, a five-man team from Janssen maintains and repairs the electrotechnical systems, guaranteeing smooth operation around the clock. This project gained the attention of other port operators Dindas reports, "In Hamburg, a partnership with ABB and Künz that has lasted over a quarter of a century, proved itself for the first time in a major project. For us, the project provided a unique way to demonstrate our skills and gain new business."
PROVEN PARTNERSHIP
A record order then came from port operator APMT in Rotterdam at the end of 2012. A total of two gantry cranes and 48 fully automated stacking cranes were ordered for APM Terminal's Maasvlakte II facility from ABB. ABB is again relying on the proven partnership between Künz Krane and Elektrotechnik Janssen, who are involving the tried and tested cable supplier again. "HELUKABEL has been convincing us for decades now with its excellent product portfolio, punctuality and reliable logistics," said Dindas. Janssen was already involved during the planning phase of Maasvlakte II back in 2012. "Our crane installation experts ensure operational safety and optimise assembly procedures. This is how efficient solutions come about," stated Schlake. Elektrotechnik Janssen is also responsible for constructing the heart of the crane known as the "E-container" complete with control cabinet wiring, power supply and fully automated control devices.
In Rotterdam, the tough conditions on the coast require environmentally resistant and seawater-proof cable solutions. Thomas van der Spek, Crane Construction Project Manager for Elektrotechnik Janssen and HELUKABEL identified suitable types and cable sizes. For example, the TOPFLEX EMV-UV-3 motor power supply cable is used to supply power to the frequency converter. The special feature of the screened cable is the ground core which is divided into three small cores for a symmetrical, space-saving cross section. The halogen-free SUPER-PAAR-TRONIC-C-PUR cable for drag chains or the PE-insulated, low capacitance, EMC-preferred type PAAR-TRONIC-Li-2YCYv from HELUKABEL are also used.
Elektrotechnik Janssen generally orders smaller cross sections on the reel. More expensive custom cables are ordered as dimensionally accurate as possible to avoid wasting any material. Aware of the technical challenges, Schlake says, "The cables connecting the medium-voltage section (which is up to 350 metres long [1,150 feet]) to the transformer run to the low-voltage distribution units and then to the overhead gantry crane motors. That's why we need especially high-quality cables and wires."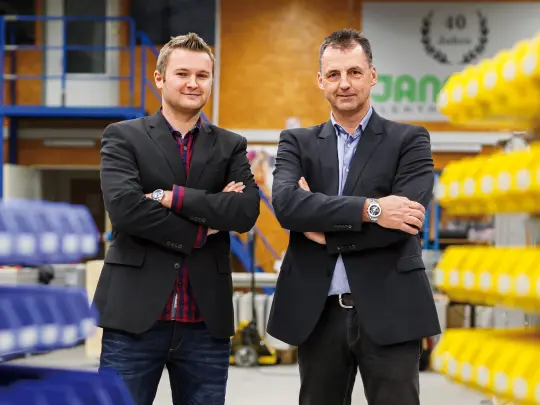 Elektrotechnik Janssen hardwires cranes for container terminals. (©HELUKABEL / Andreas Burmann)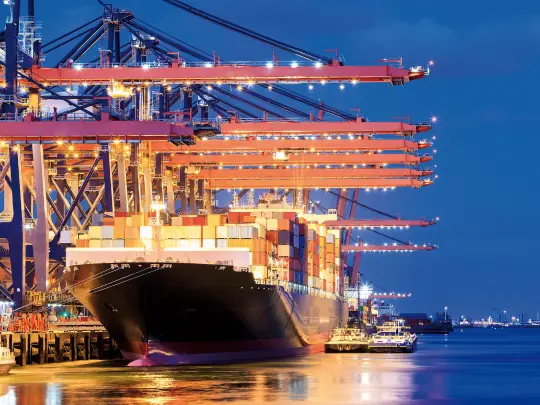 Things are getting really exciting at the other end of the loading crane, where the world of sea terminals begins and the fully automated container cranes redistribute freight from overseas ready for its next journey. (© iStock / FredFroese)
E-CONTAINER FOR CANADA
In spring 2016, Janssen will connect the last cables in Rotterdam. After that, Hamburg is waiting to place another order. The Hanseatic Container Terminal Burchhardkai (HHLA-CTB) wishes to modernise its container stacking cranes. An initial dozen of these cranes have been ordered – a volume which, according to Schlake, will require approximately 80 kilometres (50 miles) of cable and wires. "With such an intricate structure, cables suddenly become much more than just C-level materials and are also extremely important components from a budgetary point of view," underlines Dindas.
Word soon spreads about anything that proves its worth in Europe. Due to this fact, Elektrotechnik Janssen is currently building the E-container for Hans Künz Krane, who are manufacturing a crane beinging exported to the Canadian city of Vancouver. "We build E-containers and transformer housings entirely in Nordenham and then ship them to Künz. All the crane manufacturers have to do is position the components in their allocated place in Vancouver and connect them," says Schlake.
Back