Just-in-Time With the Assembly Line
Without its close partnership with cable manufacturer, Eisele Elektronik GmbH, the assembly and cabling of machines and equipment at HOMAG group's Schopfloch factory would not run so smoothly. HELUKABEL produces the cables and wires.

Rainer Maier has been HELUKABEL's main man for the HOMAG Group for two decades. He recalls with a smile how he once answered the question "Do you also do Kanban?" with a very resounding "Yes," only to then look up at home what Kanban actually meant! Today, he's an expert. Kanban is the principle of directly delivering parts and groups of components in time with production – known as "just-in-time" production. This method remains one of the winning formulas for HOMAG Group, the global-leading provider of woodworking machinery. The just-in-time method also applies to the sophisticated cabling of HOMAG machines at the Schopfloch facility. Throughout the entire factory, only a handful of cable reels can be found stored in corners. All other cables come directly from the supplier, and are delivered to the assembly line at exactly the right moment along the production process. This is achieved by Eisele Elektronik GmbH, which is based just under four kilometres (2.5 miles) away. Eisele's team provides cable sets and electrical assemblies for each individual machining centre and conveyor.
HOMAG Group, HELUKABEL and Eisele first came into contact with each other in the early 1990s, with their partnership growing stronger after 1996. The increasingly shorter cycles on HOMAG's woodworking machinery accompanied by significantly higher dynamics demanded a lot from the existing cables. Maier, Customer Representative at HELUKABEL, soon became an advisor to his key customer. He recommended that, in light of the increasingly rapid machine movements, PUR cables should replace the PVC types in the drag chains. According to Maier, "In the test runs, the flat PVC cables previously used in the prototypes ended up failing too frequently." The change to PUR cables soon paid off. To date, not one single cable failure has been reported as the reason a machine malfunctioned at HOMAG Group's main plant in Schopfloch. When this number is extrapolated to include all machines, the cables have successfully completed approximately 60 million bending cycles.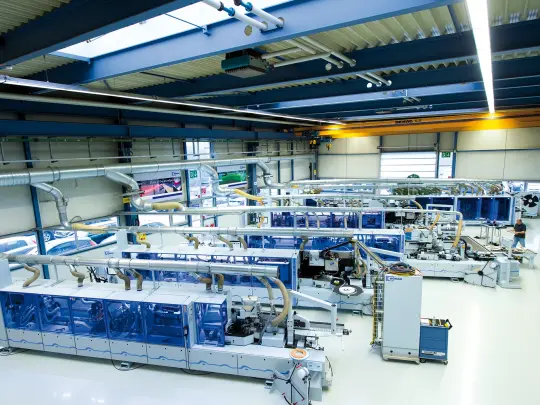 The supplier, Eisele Elektronik, prefabricates cables and wires directly on the line. (© HELUKABEL / KD Busch)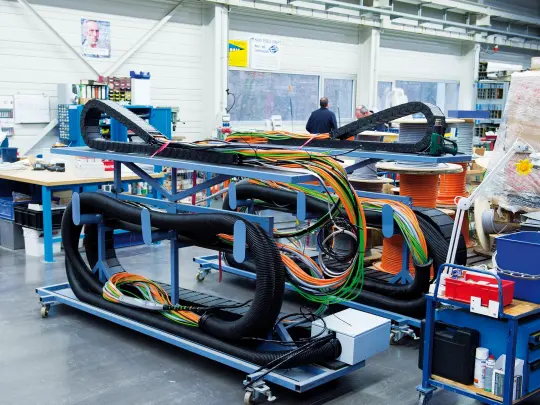 Drag chains and electrical assemblies on transport carriages arrive just-in-time to production. (© HELUKABEL / KD Busch)
CUSTOMER PROXIMITY
Maier, an experienced master electrician, is onsite at Schopfloch in weekly cycles and can be reached by phone 24/7. He's not just available to talk about new requirements but also provides coaching. After all, organised cabling is not just an important feature of premium class machines, but also a critical factor in ensuring longevity. Bernd Bok, Head of Strategic Purchasing at HOMAG Group stresses, "With HELUKABEL, the entire HOMAG Group has access to an experienced supply partner." HELUKABEL's assistance was also sought back in 1999 when the Schopfloch factory placed its value-added chain under close scrutiny and Maier professed to being familiar with the Kanban system. Inspired by the Japanese production method, the machinery and equipment manufacturer wished to streamline its procedures and optimise its processes. After all, evermore complex machines with increasingly high levels of automation will continue to be produced efficiently. During the course of these deliberations, HOMAG Group wished to focus on its core competences, which include bringing together all components in the assembly process, and commissioning the entire system at the customer's facility. In this context, it became necessary to outsource the manufacturing of cables to a service provider which could ensure synchronised delivery to the assembly line. The Schopfloch plant chose Eisele Elektronik GmbH for this purpose.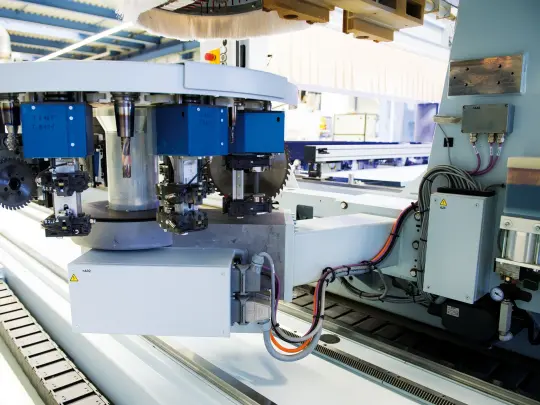 Organised cabling is a feature of a premium class machine. (© HELUKABEL / KD Busch)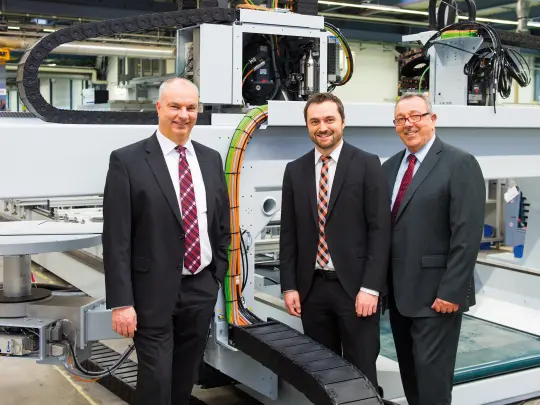 An experienced team: HELUKABEL's Rainer Maier (right) with HOMAG's Bernd Bok (left) and Jürgen Probst (middle) (© HELUKABEL / KD Busch)
A MANUFACTURER FULL OF IDEAS
As the partnership developed, Dr. Sebastian Eisele invested a lot to keep pace with the demands from Schopfloch. Cabling work on the control cabinet was dramatically reduced by using manufactured cable harnesses following the model used in the automotive industry. "On certain cabinets, the work was reduced by over 70 percent," beams the Eisele engineer. In a fully automated process, a machine located in the centre of the cable harness production area cuts the cables to length, strips both ends, welds the braids, checks all the weld spots with ultrasound, and finally, marks each specific cable. The flexibility of HELUKABEL cables was also called upon when implementing the prefabrication system for each individual machine because HOMAG Group's fully automated marking system kept writing over the type-specific marking on the cables. For this reason, the woodworking machine builder now receives all types of cable with a manufacturer's imprint that does not get in the way of the marking.
The fully automated machine was extended, enabling wire sets of up to 25 metres (80 feet) long (instead of just 10 metres [33 feet] long) to be processed. Thus, for each machine from the Schopfloch factory, the vast majority of complete cable sets is prefabricated, while the remainder is made by hand. "This process is not just an important step towards easier assembly," says Eisele. "For HOMAG Group's Schopfloch factory, machine wiring used to be a major cost. However, today, thanks to prefabricated cables, our customer saves a great deal of money." Eisele's inventors also score highly with innovative ideas. For example, working closely with the customer, Eisele and his team built transport carriages for drag chains, control cabinets and electrical assemblies. Chains or pre-cabled assemblies are positioned on the carriage at exactly the same height as the respective target machine. This means that assemblers at HOMAG Group's Schopfloch factory can simply push the assembly into the machine without any additional effort.
OPTIMUM AVAILABILITY
"We are fully involved in the customer's system. We always work two cycles ahead to ensure that the processes run smoothly, and so that we can react quickly, if need be, to any changes to the plans," says Eisele. The interface programme for transferring data from the HOMAG assembly planning was programmed at Eisele. In the process, Eisele GmbH is responsible for ensuring that the cables are always available. "In view of the tight deadlines, physical proximity also plays a key role," Eisele continued. Incidentally the company's punctuality also won over former sceptics at HOMAG Group. All cables ordered from Eisele by 2 p.m. are delivered the same day to the required site.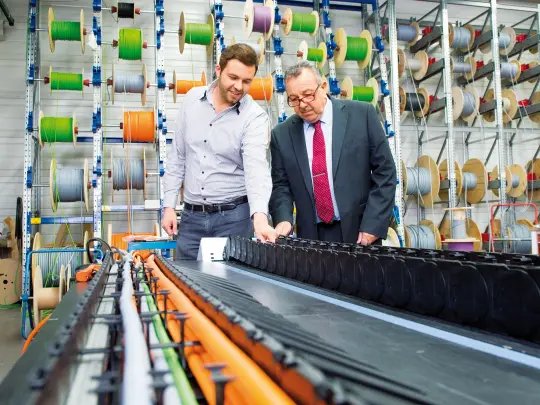 Together with Rainer Maier, Sebastian Eisele (left) checks the assembly of a drag chain. (© HELUKABEL / KD Busch)
FOCUSING ON "INDUSTRY 4.0"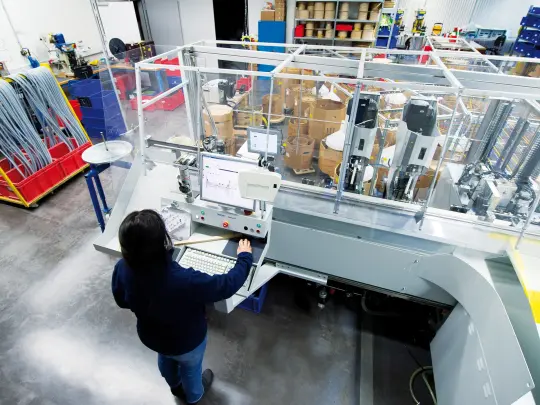 At Eisele Elektonik, a fully automated process cuts the cables to length, strips them on both sides and welds the braids with ultrasound. (© HELUKABEL / KD Busch)
Like HOMAG Group and HELUKABEL, Eisele now faces new challenges. According to Bok, the topic of "Industry 4.0" represents a huge opportunity. "Robotics and the growth of networking all components in the factory are the future, and we are pioneers in our industry," he states. This has potential for HELUKABEL products such as robotic cables, hybrid solutions and Ethernet cables. And as machine dynamics are far from being exhausted, robust cables are increasingly required to cope with even faster speeds. The fact that HOMAG Group is becoming more and more internationalised means that HELUKABEL will also be in demand in other parts of the world. For example, in the future, HELUKABEL's services will be required during the manufacturing of control cabinets in Poland.
Bernd Bok is extremely confident. After all, in the past, HELUKABEL and Eisele have shown that they can be relied upon. This has also been explicitly acknowledged by HOMAG Group. Every year, the world's leading supplier of woodworking machinery chooses its top suppliers across all product groups. During 20 years of the "Supplier of the Year" nominations, HELUKABEL is the only supplier to have won the award twice. Eisele obtained the much sought-after title in 2011. "It's no coincidence," says Bok, "that the topic of 'cables' was the determining factor in awarding the prize. "For me, cables are the very arteries of our machines and systems. With HELUKABEL and Eisele Elektronik, we singled out two suppliers with whom we have had a close partnership for years and which score highly in terms of their excellent quality and absolute adherence to delivery deadlines."
HOMAG Group AG
is the world's leading manufacturer of machinery and systems for the woodworking industry and small trades. The company, which is part of the Dürr group, has around 6,000 employees and, in 2015, expects revenues to be in the range of €1 billion ($1.1 billion). The HOMAG Group is a successful global player with 23 company-owned sales and service companies and 15 production facilities based around the world.
Eisele Elektronik GmbH
has developed from a cable manufacturer into a system supplier for mechanical engineering. In addition to HOMAG Group, its customers include well-known companies such as Arburg and L'Orange. Its sister company, Hans Eisele GmbH, an electrical installation company for office and factory buildings, complements the range of products available. Over 100 people are employed at its headquarters in Glatten.
Back