Secure Through the Desert
X-Raid GmbH relies on robust and lock-tight HELUKABEL cable ties.

At more than 120 kph (75 mph), the drivers shoot through the desert in their rally speedsters. Rough terrain and sand ridges catapult them up to as high as 20 metres (66 feet). After several seconds in the air, the cars crash back onto the track, pushing the special clearance and suspension forks to their limits. The drivers are pushed into their belts with full force, and the objects inside the vehicle pull at their mountings with a force equal to several times their weight. To make sure that everything stays put, HELUKABEL cable ties secure everything. X-Raid GmbH, from Trebur in Hessen, relies on these clever ties. With a team of international racing drivers, the company takes part in off-road rallies throughout the world.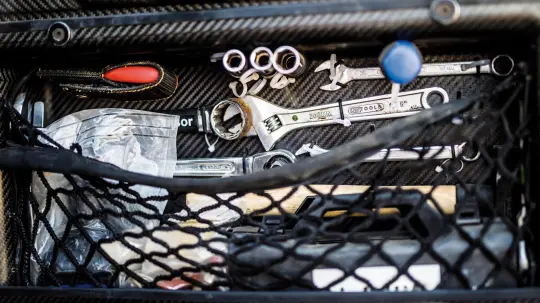 Nothing rattles here since nuts, ratchets and keys have fixed locations. Cable ties secure the tools as well as any clamp. If they are needed, a quick cut and a new tie are all that's required. (© X-Raid GmbH)
The custom-designed, off-road vehicles not only race through dusty deserts but loose stones and muddy riverbeds are also conditions in which the off-road professionals feel comfortable.
Markus Rexroth, electrician at X-Raid GmbH, explains, "For each vehicle, we tie around 500 to 600 cable ties. With these, we secure the internal cable harnesses to the chassis to ensure that nothing flaps around and to prevent plugs from working loose. Additionally, we secure tools such as screwdrivers and spanners in the doors, so that minor repairs are possible at all times." The light and extremely tension-resistant cable ties are completely stable and weather resistant, and, if necessary, can also be quickly cut with a knife – optimal for use in the rally vehicles. Thanks to the easy handling of the cable ties, we can replace or add control lines or other connecting cables at any time and without any great effort," adds Rexroth. They achieve winning times with their reliable and optimally secured vehicle, the MINI ALL4 RACING, and have already made it to the winner's podium of the Dakar Rally several times.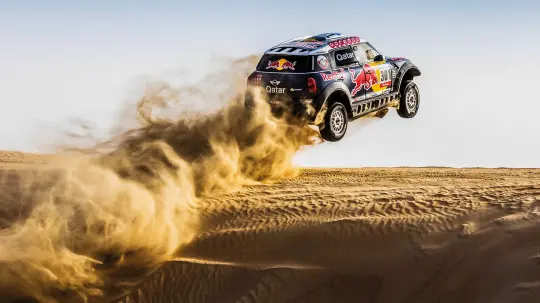 In its rally vehicles, X-Raid shows how practical and versatile cable ties can be. (© X-Raid GmbH)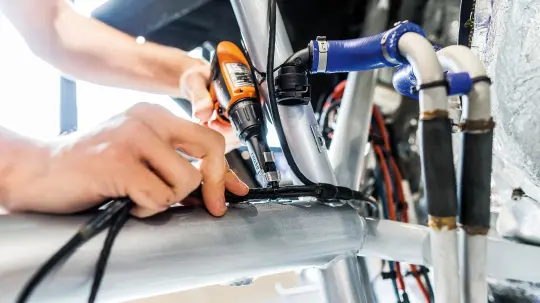 The X-Raid team fastens 500 - 600 cable ties per vehicle. Handy tools, like the ERG 50, tighten the ties to a pre-defined tension and then cuts them, are very useful. (© X-Raid GmbH)
Back