How to Deal With Cable Drums
A specially manufactured cable drum warehouse from Kabelmat provides an enormous amount of storage space and brings structure to the warehouse logistics system of h.team GmbH + Co.KG.

It has been 14 years since Bernd Haussmann founded the electrotechnical company h.team with two employees in Calw, Baden-Wuerttemberg, Germany. The company now has 50 employees, who take care of a long list of customers. They are experts in connectors, cable sets, field bus systems, and specialise in setting up electrical systems for machines and automation components. It was logical for the company to search for an effective, well-functioning warehouse logistics solution in order to keep up with the increasing needs commensurate with its rapid growth. Ruben Heinzelmann, Procurement Manager of h.team, smiles as he says, "Let's not get into the state of our previous warehouse. I'd rather focus on the new storage rack system." The company opened up its new headquarters roughly two years ago in order to bring the production, logistics, development, sales and management of its electrotechnical components and systems together under one roof. The new premises, featuring a floor space of 10,000 square metres (107,640 square feet), is only two kilometres (1.2 miles) away from the company's previous building.
We take a couple of steps past the entrance, walk down the corridor in the office building and turn left through the glass door to arrive in a gigantic, still partially empty, warehouse. The first thing that catches our eye is the cable drum rack to our right. It is almost 20 metres wide (66 feet) and five metres (16 feet) high and the multi-coloured cables give it a bright, colourful look. Andreas Heselschwerdt, who works in the production department, walks through the overhead roller door on the other side to join us. He slides the MESSROL, a manual coil and spool winder from Kabelmat, in front of rack bay number 5. "This device allows me to quickly and easily unwind small quantities of cable measuring less than 50 metres (165 feet)," says Heselschwerdt. Large batches, on the other hand, are cut and stripped automatically.
NO DOWNTIME
As he watches the process, Heinzelmann says, "This is where we store bulk goods such as feedback and motor cables – all the way up to the ceiling. We developed this special cable storage and unwinding system in collaboration with Kabelmat." The system allows the company to avoid long setup times and spares the employees from the intense labour necessary to move and retrieve cable drums. Instead, Heselschwerdt and his colleagues can easily manoeuvre their way around the rack. The new cable drum storage system from Kabelmat saves an enormous amount of space, can store up to 220 drums and significantly increases productivity. "It is managed through our computerised system and is connected to our EDV storage system," says Heinzelmann. "This means we can make sure that we never have any downtime and that we are always informed about the availability of our cable stock."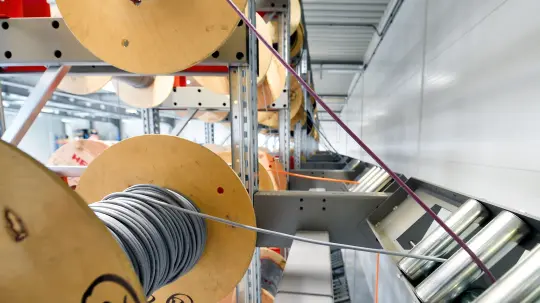 The operator lowers each cable using a pulley, which prevents unused cables from getting in the way when cuts are made. (© HELUKABEL / KD Busch)
EXTRA FEATURES
"We spent a long time thinking about the requirements that such a cable storage and unwinding system would need to fulfil," says Heinzelmann. It needs to stand very close to the wall in order to save space. This means you can only access it from one side, but h.team wanted to fully exploit the maximum storage capacity of the space. The company decided to develop a storage system that could store two drums back-to-back on each LAGROL shelf except for the bottom shelves. "Our challenge was to find a viable solution that would allow us to load and unwind the cable drums stored on the upper shelves against the wall without damaging our cables or needing to move our drums all the time," says Heinzelmann.
h.team and Kabelmat decided that using pulleys would offer the best solution. Each cable now has its own pulley, which the operator uses to bring down the cable. This prevents excess cables not being used from getting in the way and makes it easier to pull down the selected cables.
Another key feature of the system are the brakes. This is how it works: each cable drum is placed on a drum axle when it is first received. Cones centre and fix the drums on the axle, preventing it from loosely sliding back and forth. An employee in the production department then raises the drum by the axle and latches it onto the axle holder. "This process prevents the cable drums from endlessly unwinding as soon as you pull on the cable. The brake linings on the axle holder stop the axle from moving, thereby stopping the entire drum from rotating further. This means that the cable runs smoothly, but its movement stays under control," explains Heinzelmann.
MORE STORAGE SPACE
Additional rack shelves are still available in the warehouse system. Heinzelmann emphasises the word "still" before adding, "We are an ambitious company. We built an entirely new warehouse specifically so that we could meet increasing demands as we continue to grow. We have enough storage space available here for the next few years." Heselschwerdt has now arrived in a forklift. He uses the Kabelmat TROMPLAT fork to lift up an entire drum, one millimetre at a time, places it in the axle holder and disappears through the overhead roller door once more.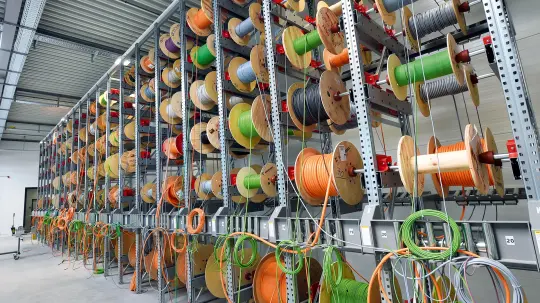 It is almost 20 metres wide (66 feet) and five metres (16 feet) high and the multicoloured cables give it a bright, colourful look. (© HELUKABEL / KD Busch)
OPTIMAL NETWORKING
h.team GmbH + Co. KG in Calw, Baden-Wuerttemberg, Germany, specialises in planning and implementing all kinds of electrotechnical machine wiring systems. The company supplies customers in the automotive, pharmaceutical and electronics industries with connectors, smart sensors, and optimal field bus and data systems.
Back