"People are at the heart of our work."
Interview with Katja Lägeler, Head of People and Culture at HELUKABEL
Since the beginning of 2022, Katja Lägeler is responsible for HELUKABEL's personnel department. In an interview with her below, she describes the challenges facing personnel management, important factors for the successful recruitment of specialists and trainees, and why HELUKABEL's corporate culture particularly appeals to her.
Ms Lägeler, your department was recently renamed from "Human Resources" to "People and Culture". What is the reason for this change?
We want to set new priorities in personnel work. Employees are of vital importance to the success of a company – and I think it's no longer in keeping with the times to talk about people as "human resources". We want to create a new mindset here. We're asking ourselves questions such as: how can we create an employee experience that is as positive as possible? In our role as personnel officers, what can we do to make sure that employees feel listened to, and that their questions and concerns have been understood? Employee well-being is at the heart of our work.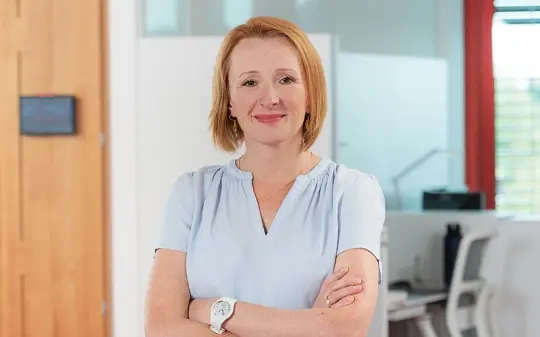 Katja Lägeler is Head of People & Culture at HELUKABEL.
What are your responsibilities as Head of People and Culture? What does a typical workday look like?
Most often, my day involves a lot of communication – within my department as well as with other managerial staff and employees. It's often a matter of finding solutions and ideas to improve cooperation in certain areas. On other days, I might have a brainstorming session with myself – to come up with new concepts for the reorientation of our personnel work, for example.
Headquartered in Hemmingen, HELUKABEL is located in the middle of the strong economic region of Stuttgart, alongside other renowned and sometimes much bigger companies. As an employer, what do you have to do these days for long-term success in the race for sought-after specialists and trainees?
On one hand, you need a strong network – from experts in specialist departments that know the ins and outs of their market to a strong presence on social media and relevance among different target groups. On the other hand, it's important to actively communicate to the outside world about what makes the company special and what it has to offer. This begins with really simple things like the dress code: here you can wear what you want, which is far from being the case in many other companies – especially in big ones. At HELUKABEL we offer outstanding career development opportunities. If you want to see what it's like to work in another part of the company, you'll be given the full support to do so. Especially among young people, "purpose" plays an important role, that is to say: does the work I do have meaning and purpose? As a company that is active in growing industries of the future such as e-mobility and renewable energy, we are well-positioned from this standpoint.
Since the start of the COVID-19 pandemic – and even before then – the topic of remote working has significantly grown in importance. To what extent is working from home changing the traditional workplace and what are some of its advantages and disadvantages?
I'm convinced that working from home has arrived and is here to stay. COVID-19 hasn't only provided an enormous technological boost, it's also changed the way many people think. When I started at HELUKABEL – in the middle of the pandemic – I realised that management fully trusted its employees to do their work from home. I think this is great! Many tasks can be done just as well from home, some even better. On the other hand, spending time with each other in person and being seen are part of our corporate culture. This only works if we're physically in the office. I guess that, in the future, a hybrid model of working from home and in the office will become the norm.
Another new approach being pursued in collaboration with selected customers is the evaluation of what customers want from our employees. What is particularly important to them and what can they expect from HELUKABEL in the future?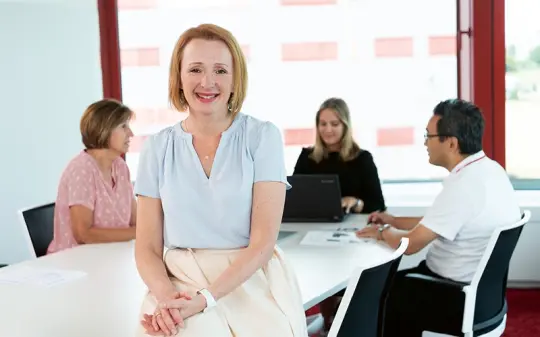 This approach is based on the fact that the company's end customers are also our customers in the personnel department. That's why we're looking closely at the so-called customer experience: i.e., what do we have to offer to make sure customers choose us? This question concerns our products as well as our employees. Our customers have specific expectations of each HELUKABEL employee, particularly those in sales. But these people can only do their jobs well if every upstream and downstream process is running smoothly – from logistics all the way through to accounting.
In the personnel department, we are in the process of asking our customers exactly what they expect from our employees. We want to use these findings to trigger internal changes to meet and even surpass their expectations in the future. For example, customers like working with a dedicated contact person at HELUKABEL and having frequent contact. Speed and good reachability are key criteria for many customers – they also value the sales staff's knowledge of the HELUKABEL product range as well as of the requirements and special characteristics of each respective industry. By reflecting, learning from each other and talking with one another, we can actively help improve the customer experience.
Working with employees, customers and business partners in the right way – this is all part of the so-called corporate culture and defines a company's values, vision, strategy and procedures. What distinguishes HELUKABEL's corporate culture?
For me, HELUKABEL has a very healthy and uncomplicated corporate culture. People are open to new ideas and prepared to simply try out new things without much bureaucracy. As a family-owned and managed business, stability is central to our corporate culture, and the management team is the living proof of this. We're continuously developing ourselves, not through one big revolution but through steady evolution. Healthy common sense is at the forefront of all decision making, and employees have a lot of freedom to develop themselves. These are important things that we should maintain well into the future!
You can also find this and many other exciting articles in the current issue #12 of our customer magazine POWER. Read it now!
Back