Our Customer Magazine POWER Is Now Available
Discover the latest issue
Three years ago, the last issue of our customer magazine POWER was published. The COVID-19 pandemic and the ensuing cancellations of trade fairs and customer visits put a pause on new publications – however, this has now come to an end: POWER issue no. 12 is available for download!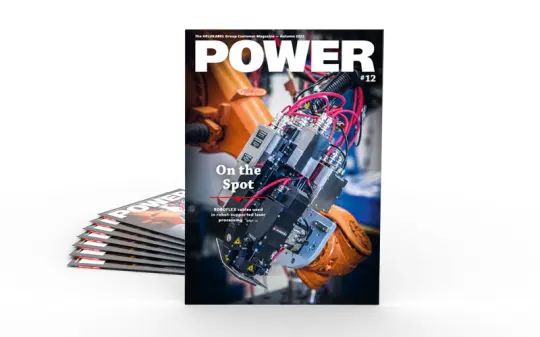 Now available: the latest issue of HELUKABEL's customer magazine, POWER. Source: HELUKABEL


Among a great variety of articles, you can look forward to the topics listed below:
Robotics – A Key Industry: experts discuss trends, opportunities and challenges
On the Spot – Focused and Precise: why Scansonic chooses robotic cables from HELUKABEL for their laser processing optics
Fast and Flawless Rewinding: the Danish electrical wholesaler Solar relies on automatic winding technology from KABELMAT
Measuring Made Easy: how Aufmaster is revolutionising the work of electrical companies on building sites
In addition, we feature lots of other news from the HELUKABEL world. You can find the digital version of POWER in our download centre.
We wish you pleasant reading!
Back